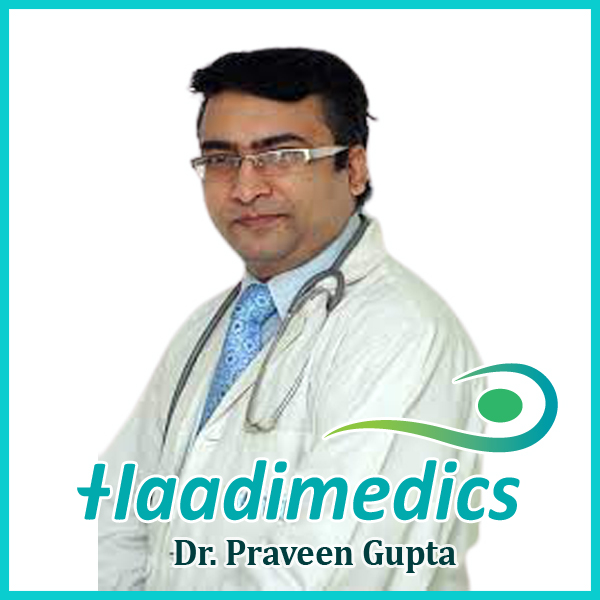 Get response within 24hrs
Neurologist | New Delhi | India
MBBS, MD, DM | 18 Years of Experiences
---
Dr. Praveen Gupta is one of the leading neurologists in India.

With long 18 years of rich career, Dr. Gupta founded two departments in Neurology in two large private hospitals in Paras and Artemis, seeing the largest no. of OPD (100 Patients per day) and IPD (50 patients per day).

Dr. Gupta achieved the credit of beginning the first stroke center in Gurgaon and the first neurologist to apply solitaire for mechanical thrombolysis.

He provides the most advanced treatments in all forms, including all types of stroke intervention, botox, stroke rehabilitation, cerebral palsy, advanced second-line management for multiple sclerosis, DBS surgery for PD patients, and epileptic surgery.

His specialization lies in Acute Stroke Management

Dr. Gupta has special interests in Thrombolysis for Acute Stroke Management, Parkinson's Disease, Epilepsy, and Persistent Headache.

Dr. Gupta is frequently called for delivering speeches at both National and International Conferences.

He has obtained professional memberships in several medical associations including, the Indian Association of Neurology (IAN) and the Association of Physicians of India (API).
Brain Tumour Surgery

Pineal Region Tumours

Thrombolysis for Acute Stroke Management

Parkinson Disease

Persistent Headache

Temporal Lobectomy

Corpus Callosotomy

Lesionectomy

Hemispherectomy

Chronic Cerebro Spinal Venous Insufficiency Treatment

Cerebral or Brain Aneurysm Treatment

Carotid Endarterectomy

Cerebral Angioplasty

Multiple Sclerosis Treatment

Multiple Subpial Transections MST

Vagus Nerve Stimulation

Sleep Disorders

Restless Leg Syndrome Treatment

Liberation Treatment

Skull Base Surgery

Narcolepsy Treatment

Headache

Surgical Clipping

Endovascular Coiling

Sensory Ataxia Treatment
Related News Articles:
No Related News Articles
Related Patient Stories:
No Related Patient Stories
Get response within 24hrs
Help Us With Your Details