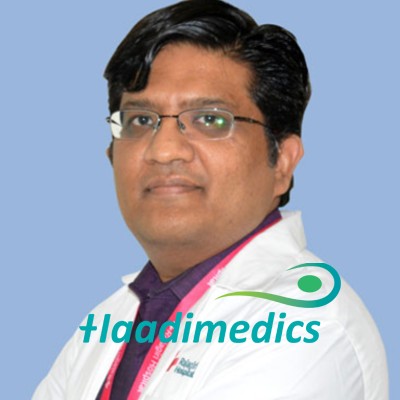 Get response within 24hrs
Head, Spine Surgeon | Kochi | India
MBBS, D. ORTHO, DNB (ORTHO), FNB (SPINE) | 16 Years of Experiences
---
Dr Ameer S Theruvath is an exclusive spine surgeon heading the Division of spine services, Rajagiri Hospital.
He did his Post doctoral fellowship in spine surgery at the prestigious Indian spinal Injuries Centre (ISIC, New Delhi).
He has more than 600 successful complex spine surgeries to his credit.
He is one of the only three qualified and MCI registered spine surgeons in the state of Kerala.
He set up the state of the art Spine surgery unit at Rajagiri Hospital with all modern amenities including real time intra operative Neuromonitoring facilities to enhance surgical safety and 3 D computer Navigation to enhance surgical precision.
He performs a vast spectrum of spine surgeries ranging from Simple disc surgeries to complex Spine deformity corrections.
He is an Editorial committee member of e-Learn SCI, an initiative of International Spinal Cord Society, London.
He has authored chapters in various textbooks of spine surgery and published papers in reputed journals.
He has a special interest in scoliosis surgery and runs the Rajagiri Hospital Scoliosis Program (RHSP) which offers scoliosis surgery to children belonging to underprivileged families at a subsidised cost.
MBBS
Academy of Medical Sciences, Pariyaram.
D. ORTHO
Fr. Mullers Medical College, Mangalore.
DNB (ORTHO)
Medical College, Kottayam.
FNB (SPINE)
Indian Spinal Injuries Centre (ISIC ), New Delhi.
Specilaisation
Fracture Treatment
Joint Diseases
Joint Replacement Surgery
Knee Replacement Surgery
Hip Replacement Surgery
Spine Disorders
Total Hip Replaceme
Degenerative spine disorders, Spinal deformity, Spinal trauma, Spinal Infections, Osteoporosis
Procedures
• Spinal Fusions (TLIF, ALIF, DLIF, Axial-LIF, PLIF, PLF)
• Spinal deformity (Scoliosis and Kyphosis) correction
• Artificial Disc Replacements (Cervical and Lumbar)
• Minimally Invasive Spine Surgeries
• Cervical Spine Surgery
• Occipito-cervical and C1-C2 surgeries
• Spinal tumours
• Kyphoplasty and Vertebroplasty
• Motion preserving surgeries for degenerative spine and scoliosis
• Growing rod for scoliosis
• Spinal Trauma surgeries
• Pain Procedures: Epidural Blocks, radiofrequency Ablation, Spinal cord stimulator, Baclofen and Morphine Pumps, Percuataneous discectomy
Related News Articles:
No Related News Articles
Related Patient Stories:
No Related Patient Stories
Get response within 24hrs
Help Us With Your Details