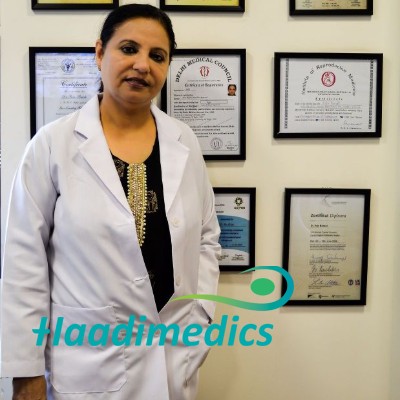 Get response within 24hrs
IVF Specialist | New Delhi | India
MBBS, MD | 26 Years of Experiences
---
Dr. Rita Bakshi is the founder and chairperson of International Fertility Centre, the oldest fertility clinic and one of the most renowned IVF clinics in India.
She graduated from the Lady Harding Medical College, New Delhi and received her MBBS in 1983. She completed her MD (Gynae & Obs) from Safdarjung Hospital, New Delhi in 1990.
Dr. Rita is specially trained in fertility and woman's health and holds Diploma in Obstetrician and Gynaecologist from St. Stephens Hospital in 1987.
Her areas of expertise include IVF, IUI, ICSI, surrogacy, recurrent miscarriage, endometriosis and ovulaltory disorders and their treatments.
During the last 25 years, Dr. Rita Bakshi has helped families conceive more than 4000 in vitro fertilization (IVF) babies. She is internationally renowned for her pioneering work in assisted reproductive technology (ART). She's also the founder of ADIVA group of Hospitals
Dr. Rita graduated from the Lady Harding Medical College, New Delhi and received her MBBS in 1983. She completed her MD (Gynae & Obs) from Safdarjung Hospital, New Delhi in 1990.
Dr. Rita is specially trained in fertility and woman's health and holds Diploma in Obstetrician and Gynaecologist from St. Stephens Hospital in 1987.
Jansanskriti "Rashtriya Samman" Award 2013
Rashtriya Gaurav Award by India International Friendship Society, 2011
Women Entrepreneurship Award in the Field of Medicine, 2015
Best Upcoming IVF Chain Award, 2015
Achievements and Works
Performed more than 6000 caesarean sections, 3000 Hysterectomies including non-descent Hysterectomies even up to 16-week size uterus.
Has done more than 1000 cases of IVF annually at all the centres with a success rate of over 45%.
Have Done Tubal recanalization using a microscope with excellent result.
Have successfully deal with male infertility, testicular biopsy, frozen sperm ICSI.
Success rate of over 80% in Egg Donor Surrogacy.
Established IFC and its various centres
Dr. Rita Bakshi established Adiva in 2004 and then went on to establish International Fertility Centre in 2012 where she continues to work on various ART procedures till date. As an IVF specialist and under her leadership, the centre had begun to develop a national reputation for excellence in both pregnancy and delivery rates within its first five years of operation.
Having dream project to help couples towards Parenthood, Dr. Rita Bakshi establishes various IVF and ICSI centres in several cities of India. Over a span of 10 years, Dr. Rita is now associated with several successful IVF centers set-up in Haryana and Rajasthan. The various techniques of assisted reproduction including ovulation induction, IUI, IVF, ICSI, Egg/sperm/embryo donation and surrogacy are now performed at IFC clinic with an outstanding degree of care and support of international standard and success.
Dr. Rita Bakshi now performs more than 1000 cycles of IVF and ICSI per year at IFC head office in New Delhi with more than 50 percent success rate.
Leadership Footprint :
Founder, UPKAAR Surrogacy Welfare Trust.
Organizing Secretary of the International Conference on Reproduction, Fertility and Surrogacy (ICRFS) 2014 held in AIIMS from 23rd to 26th May 2014.
Vice President of Indian Association of Occupational Health dealing with Industrial workers & Industrial Hazard exposure.
Vice President – Medical Fitness Society India (MFSI)
Cultural secretary of World Brotherhood Organization (WBO) – A Non-profit Organization.
Secretary of Lions Club of Delhi Elite – A Charitable Organization.
Vice-President of Lal Baughcha Trust – A Charitable Organization.
Member:
Dr. Rita Bakshi is a member of AOGD (Ass. Of Obstetricians & Gynecologists Delhi), FOGSI (Federation of Obstetrician & Gynecological Societies of India), FEMGENCON (Association of Female Genital Reconstructive Aesthetic and micro surgeons of India), ISAR (Indian Society of Assisted Reproduction), IFS (Indian Fertility Society), NARCHI (National Association of Reproductive Child Health of India) and USI (Ultrasound Society of India).
Media Coverage:
Considered a leading authority on fertility, Dr. Rita Bakshi has been interviewed by BBC, The Telegraph, The Hindu, Times of India, The Hindustan Times, India Today, The Mint, The New York Times, The Statesman, and has appeared as a fertility expert on numerous television programs, including NDTV Programme on Surrogacy, AAJ News and on various other news programs.
Premature Ovarian Failure
Embryo Cryopreservation with IVF
Oocyte Cryopreservation (Egg Freezing)
Ovarian Tissue Freezing
IVF with Donor Eggs
Anal Sphincteroplasty
Bladder Instillation
Botulinum Toxin Injections
Cystoscopy
Gynecologic Reconstructive Surgery
Pelvic Floor Reconstruction
Pessary Insertion
Prolapse Surgery or Surgical Repair of
POP - Pelvic Organ Prolapse Treatment
SNS - Sacral Nerve Stimulation
Sling Procedures for Urinary Incontinence
Urethral Bulking Injections
Urodynamic Testing
Vestibulectomy
Colposcopy
Diagnostic Hysteroscopy
Endometrial Ablation
Female Sterilization - Tubectomy
Hysterectomy
Laparoscopic Gynecological Surgery
Laparoscopic Hysterectomy
Laparoscopic Supracervical Hysterectomy
Laparoscopic Treatment of
Ovarian Cyst Removal
Pelvic Surgery
Pelvic Reconstructive Surgery
Robotic Female Surgery or
Advanced Robotics
Endometriosis Surgery
Therapeutic Hysteroscopy
Uterine Fibroid Embolization (UFE)
Labiaplasty (Labia Rejuvenation)
Blocked Fallopian Tube Treatment
IVF
Intracytoplasmic Sperm Injection Procedure ICSI
Fertility Surgeries
Fibroid Removal Surgery
Myomectomy Surgery
Operative Laparoscopy
Hysteroscopy
Laparoscopic Vaginal Hysterectomy
Laparoscopic supra cervical Hysterectomy
Total Laparoscopic Hysterectomy
Laparoscopic Tubal Ligation
Fibroid Removal Myomectomy
Ovarian Cysts Removal
Excision Removal of Endometriosis
Sacrocolpopexy
correction
Adhesion Surgery
Diagnostic Laparoscopy
Hysteroscopy
Endometrial Ablation
Polypectomy
Myomectomy
Diagnostic hysterectomy
Hysterectomy
Anterior Posterior Repair Colporrhaphy
repair Posterior repair
Bladder Slings (TOT and TVT slings)
Colporrhaphy
LEEP - Loop Electrosurgical Excision Procedure
IUD Insertion - Intrauterine Device Insertion
Cervical polyp removal
REPRODUCTIVE ENDOCRINOLOGY AND INFERTILITY
In Vitro Fertilization IVF
Male Factor Infertility
Preimplantation Genetic Diagnosis - PGD
PGD
Intracytoplasmic Sperm Injection
ICSI
Donor Oocytes
Polycystic Ovary Syndrome (PCOS) Treatment
Recurrent Miscarriage Treatment
Uterine Fibroids
Endometriosis
Irregular Periods Treatment (Irregular Menstrual Cycle)
Hirsutism Treatment
Hyperprolactinemia Treatment
Perimenopause Treatment
Get response within 24hrs
Help Us With Your Details