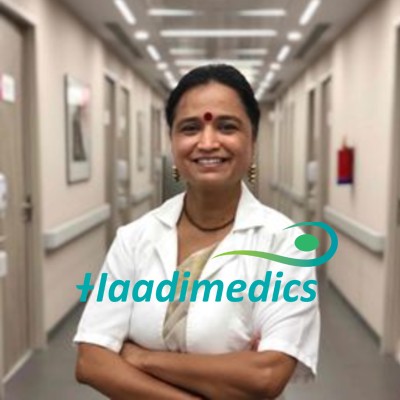 Get response within 24hrs
Obstetrics & Gynaecology | New Delhi | India
MBBS, MD | 17 Years of Experiences
---
Dr. Aruna Kalra brings with her over 17 years of experience in Obstetrics and Gynaecology across some of the best hospitals in Delhi NCR including Batra Hospital, Paras Hospital and Kasturba Medical College.
She graduated from BRD Medical college and KMC Manglore and has been awarded with a gold medal in academic excellence.
An expert in scarless laparoscopic surgeries, her areas of interest include minimally invasive gynaecological surgeries, high-risk pregnancies and vaginal birth after caesarean (VBAC).

Dr. Aruna Kalra is a qualified MD (OBST & GYNAE).

She has over 17 yrs of experience.

She has been awarded the Gold Medal in academic excellence.

She was heading the Department of Obs & Gynae at Paras Hospital since last 5 Years.

She was previously associated with Kasturba Hospital (Delhi), Batra Hospital (Delhi), Cradle Hospital, Arthemis Hospital & Shivam Hospital. Scarless Laproscopic Surgery is her Forte.

Her focus areas are a high-risk pregnancy, normal vaginal delivery, vaginal birth after caesarean (VBAC) and minimally invasive gynecological surgeries for infertility, uterine & ovarian tumor.

She has extensive experience in other Gynaecological surgeries like Vagino plasty, UVF repair, Genitoplasty etc.
Dr. Anura's extensive experience in Obstetrics, sensitive & patient approach to labouring patient with ongoing prenatal yoga sessions results in 90% normal vaginal deliveries even in previous caesarean patients.
She has achieved certified training in Infertility & ultrasonography.
Premature Ovarian Failure
Embryo Cryopreservation with IVF
Oocyte Cryopreservation (Egg Freezing)
Ovarian Tissue Freezing
IVF with Donor Eggs
Anal Sphincteroplasty
Bladder Instillation
Botulinum Toxin Injections
Cystoscopy
Gynecologic Reconstructive Surgery
Pelvic Floor Reconstruction
Pessary Insertion
Prolapse Surgery or Surgical Repair of
POP - Pelvic Organ Prolapse Treatment
SNS - Sacral Nerve Stimulation
Sling Procedures for Urinary Incontinence
Urethral Bulking Injections
Urodynamic Testing
Vestibulectomy
Colposcopy
Diagnostic Hysteroscopy
Endometrial Ablation
Female Sterilization - Tubectomy
Hysterectomy
Laparoscopic Gynecological Surgery
Laparoscopic Hysterectomy
Laparoscopic Supracervical Hysterectomy
Laparoscopic Treatment of
Ovarian Cyst Removal
Pelvic Surgery
Pelvic Reconstructive Surgery
Robotic Female Surgery or
Advanced Robotics
Endometriosis Surgery
Therapeutic Hysteroscopy
Uterine Fibroid Embolization (UFE)
Labiaplasty (Labia Rejuvenation)
Blocked Fallopian Tube Treatment
IVF
Intracytoplasmic Sperm Injection Procedure ICSI
Fertility Surgeries
Fibroid Removal Surgery
Myomectomy Surgery
Operative Laparoscopy
Hysteroscopy
Laparoscopic Vaginal Hysterectomy
Laparoscopic supra cervical Hysterectomy
Total Laparoscopic Hysterectomy
Laparoscopic Tubal Ligation
Fibroid Removal Myomectomy
Ovarian Cysts Removal
Excision Removal of Endometriosis
Sacrocolpopexy
correction
Adhesion Surgery
Diagnostic Laparoscopy
Hysteroscopy
Endometrial Ablation
Polypectomy
Myomectomy
Diagnostic hysterectomy
Hysterectomy
Anterior Posterior Repair Colporrhaphy
repair Posterior repair
Bladder Slings (TOT and TVT slings)
Colporrhaphy
LEEP - Loop Electrosurgical Excision Procedure
IUD Insertion - Intrauterine Device Insertion
Cervical polyp removal
REPRODUCTIVE ENDOCRINOLOGY AND INFERTILITY
In Vitro Fertilization IVF
Male Factor Infertility
Preimplantation Genetic Diagnosis - PGD
PGD
Intracytoplasmic Sperm Injection
ICSI
Donor Oocytes
Polycystic Ovary Syndrome (PCOS) Treatment
Recurrent Miscarriage Treatment
Uterine Fibroids
Endometriosis
Irregular Periods Treatment (Irregular Menstrual Cycle)
Hirsutism Treatment
Hyperprolactinemia Treatment
Perimenopause Treatment
Related News Articles:
No Related News Articles
Related Patient Stories:
No Related Patient Stories
Get response within 24hrs
Help Us With Your Details