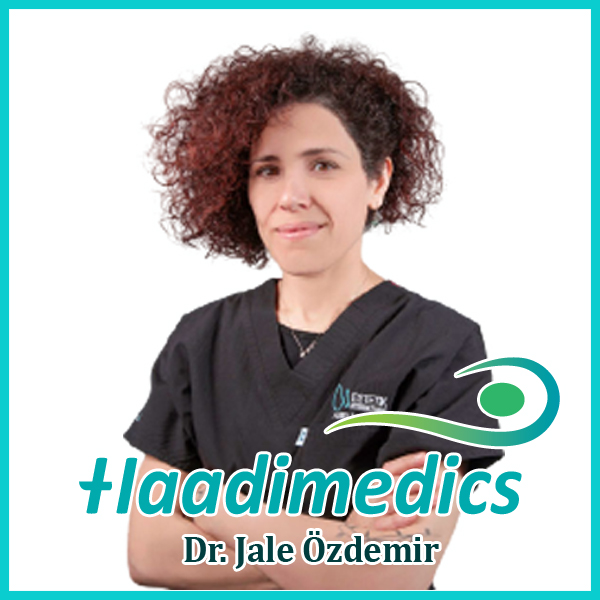 Get response within 24hrs
Cosmetic Surgeon | Istanbul | Turkey
MD | 14 Years of Experiences
---
Dr. Jale Ozdemir is an Aesthetics, Plastic, and Reconstructive Surgeon having 14+ years of experience.

Dr. Jale specialized in Abdominoplasty, Liposuction, Gynecomastia, Otoplasty, and Buccal Fat Removal,.

Dr. Jale graduated from Yeni Yuzyil University Medical School, followed by post-graduation from the reputed Kocaeli University Medical School, Istanbul University.

She is an active member of the Turkish Plastic Reconstructive and Aesthetic Surgery Association, Aesthetic Plastic Surgery Association, Turkish Society of Reconstructive Microsurgery.

Both national and international publications are issued under her credit, and she is actively called as a guest speaker in scientific meetings, CDE's and worldwide conferences to present about Liposuction.
Yeni Yüzyıl University Medical School

Kocaeli University Medical School

Kocaeli University Medical School

İstanbul University Medical School
• Clinical application of distal unlar artery perforator flap in hand trauma (J. Reconstr. Microsurgery 2011 Nov;27(9):559-65)
• Use of inferior gluteal artery and posterior thigh perforators in management of ischial pressuresores with limited donor sites for flap coverage (Ann. Plast. Surg. 2012 Jul;69(1):67-72)
• An easy way to obtain permanent post op drawings (Turkish Plastic and Reconsructive
• Repair od tissue expander due to necrosis after percutaneous flap of lateral intercostal artery.
• Immediate breast reconstruction.
• Hand injuries that have accoured in sporting public places
• Superior and inferior gluteal artery perforator flaps in reconstruction of gluteal and perianal/ perineal hidradenitis suppurativa lesions (Microsurgery 2011 Oct;31(7):539-44)
An easy way to obtain permanent post op drawings (Turkish Plastic and Reconsructive
• Aesthetic Surgery Magazine Volume 16/Edition 2 )
• Immediate breast reconstruction in giant filloides tumors(Breast Health Magazine Volume: 5/Edition :3
• Necrotizing Facade (Turkey Clinics Plastic Surgery Special Magazine 2017 series 6 number 1)
• Aesthetic Surgery Magazine Volume 16/Edition 2 )
• Immediate breast reconstruction in giant filloides tumors(Breast Health Magazine Volume: 5/Edition :3
• Necrotizing Facade (Turkey Clinics Plastic Surgery Special Magazine 2017 series 6 number 1)
• Usage of the paraspinal flap in the treatment ofAxillary hydradenitis supurativan
• Radiotherapy induces head and neck sarcomas
• Easy way to make post oprative drawings permanent
• Year 1 evaluation in the approach of palate and lip palate
Abdominoplasty

Liposuction

Gynoacomastia

Otoplasty

Buccal Fat Removal
Related News Articles:
No Related News Articles
Related Patient Stories:
No Related Patient Stories
Get response within 24hrs
Help Us With Your Details