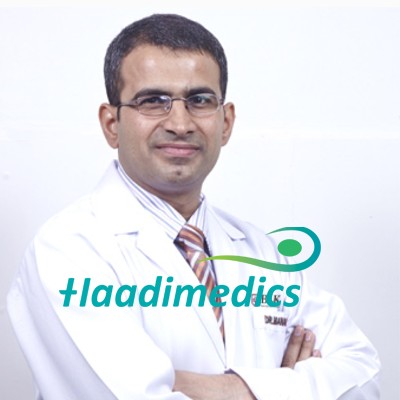 Get response within 24hrs
Gastroenterologist and Transplant Hepatologist | New Delhi | India
MBBS, MD, DM | 17 Years of Experiences
---
Dr. Manav Wadhawan has been trained in Transplant Hepatology at Montreal, Canada in 2005.
He has been instrumental in establishing a very successful Transplant program in Indraprastha Apollo Hospital.
Dr. Manav Wadhawan has a very impressive record in research & publications.
He has been a pioneer in evolution of HBIg free regimens in HBV related liver transplants.
He also has to his credit numerous high impact publications on post transplant ERCPs.
He has innovated multiple techniques to negotiate difficult biliary strictures in this setting.
He has more than 50 publications in indexed journals, including 5 book chapters.
MBBS
MD (Internal Medicine)
DM (Gastroenterology)
Specialisations
Liver Transplant
Hepatology
ERCP's
Gastroenterology
Previous Experience
Fortis Escorts Hospital, New Delhi
All India Institute of Medical Sciences (AIIMS), Delhi
GB Pant Hospital, Delhi
Sir Ganga Ram Hospital (SGRH), Delhi
Indraprastha Apollo Hospital, Delhi
Dr Manav Wadhawan has received several awards, notable being: Young Investigator Award by International Liver Transplant Society (ILTS) in 2013, Plenary Oral presentation award by Indian Society of Gastroenterology in 2012, Plenary Oral presentation award by Asia Pacific Society for Study of Liver (APASL) in 2011 & 2004, Plenary Oral presentation award by International Association of Study of Liver (IASL) in 2004.
He has been invited for over 200 lectures at various national & international society meetings.
Liver Transplant
Hepatology
ERCP's
Gastroenterology
Related News Articles:
No Related News Articles
Related Patient Stories:
No Related Patient Stories
Get response within 24hrs
Help Us With Your Details