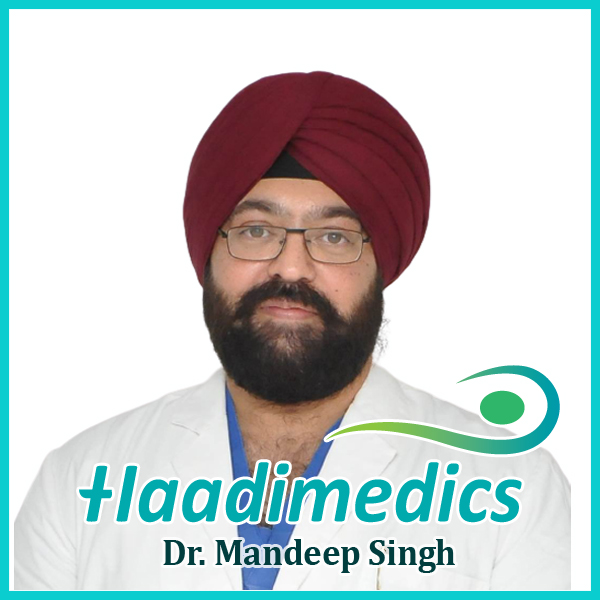 Get response within 24hrs
Surgical Oncologist | New Delhi | India
MS, MBBS | 15 Years of Experiences
---
Dr. Mandeep Singh Malhotra is a famous surgical oncologist having experience of more than 14 years.

His specialization lies in managing Breast, Head, Neck, and Thyroid cancers.

He completed his training in surgical oncology from Institute Rotary Cancer Hospital (IRCH), AIIMS. Then he trained himself in Head Neck Oncology and Microvascular reconstruction from Mazumdar-Shaw Cancer Center Narayana Hrudayalaya, Bangalore.

He completed his specialization in post-mastectomy Breast Reconstruction and Breast Oncoplasty from St Andrews Hospital, Chelmsford, UK. He has rich work experience as a Fellow in the department of GI Minimal Acess Surgery at BMHRC, Bhopal. His interested areas are Head Neck and Thyroid Cancers Breast Oncoplasty and Post Mastectomy reconstruction.

He has also obtained UICC Fellowship in Breast Oncoplastic and Genetic Breast Cancer– St Andrews Center, Broomfield Hospital, Essex UK and TORS (Trans Oral Robotic Surgery)- UPENN, Philadelphia, USA.

He has achieved professional memberships in several reputed medical associations including, the Association of Surgeons of India (ASI), ABSI (Association of Breast Surgeons of India), the FHNO (Foundation of Head Neck Oncology), Indian Association of Surgical Oncology (IASO) and the ISTS (Indian Society Thyroid Surgeons).

Dr. Mandeep Singh is well-known for treating surgically. the tumors and cancers in the breast, head, neck besides performing post-mastectomy breast reconstruction and otoplasty. Other procedures he performs including, hemithyroidectomy, lumpectomy, and breast surgery among other surgeries and treatments.
Fellowship, St Andrews Center, Broomfield Hospital, Essex, UK.

Fellowship, Narayana Hrudayalaya, Bangalore.

MS, Gandhi Medical College, Bhopal

MBBS, Maulana Azad Medical College, New Delhi.
Breast Surgery

Oncoplastic Breast Conservation Surgery

Prophylactic Mastectomy for high-risk women (BRCA gene)

Endoscopic Thyroidectomy

Endoscopic Neck Dissection

Endoscopic Thyroidectomy

Hereditary Breast Cancer Evaluation (HBOC) along with BRCA analysis

Head and Neck Tumor / Cancer Surgery

Thyroid Surgery

Cancer Screening (Preventive)

Hemithyroidectomy

Oral Cancer Resection with Reconstruction

Breast Cancer Screening

Mastectomy

Lumpectomy
Related News Articles:
No Related News Articles
Related Patient Stories:
No Related Patient Stories
Get response within 24hrs
Help Us With Your Details