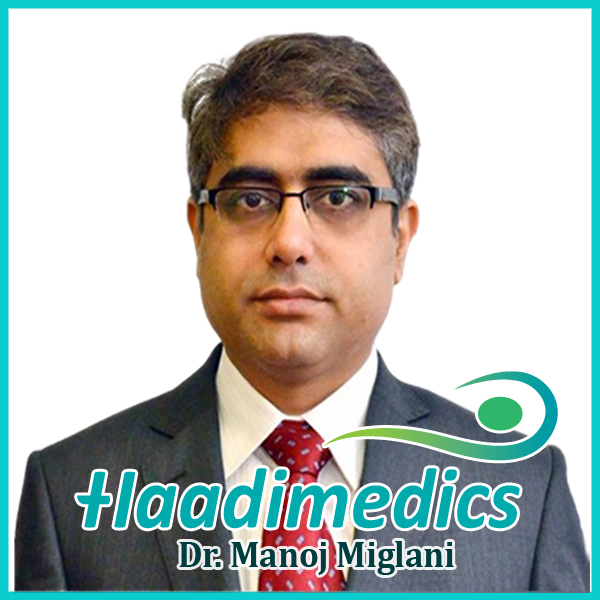 Get response within 24hrs
Orthopaedics & Spine Surgeon | New Delhi | India
MBBS, MS | 24 Years of Experiences
---
Dr. Manoj Miglani is a senior consultant orthopedics & Spine Surgeon located in Delhi, India.

He has a rich experience of more than 24 years in treating complex to simple spine surgeries and joint replacements of all types.

He completed MBBS from Moulana Azad Medical College, New Delhi, and MS from AIIMS, New Delhi and has obtained Fellowship in spine surgery.

Dr. Miglani is soft-spoken and popular among patients all over the world for his high expertise and great skills in all, spine-related treatments and operations.

His specialization lies in spinal trauma and degeneration cases. He has also a special interest in minimally invasive spine surgeries such like endoscopic procedures and fixations.

Dr. Miglani offers some specialized treatments, including hip replacement, laminectomy, knee replacement, spinal fusion, joint replacement surgery, radiofrequency Neurotomy, treating complex spine disorder, joint pain, revision joint replacement, hip resurfacing, handling spinal trauma and degeneration cases, and more.

He has a membership in several professional medical organizations including, the Delhi Orthopedic Association, Association of Spine Surgeons of India (ASSI), and AO Spine.
MBBS from G B Pant Hospital/ Moulana Azad Medical College, New Delhi, 1997

M.S. (Orthopedics) from All India Institute of Medical Sciences, New Delhi, 2000
Fellowship in Spine Surgery
Hip replacement

Laminectomy

Knee replacement,

Spinal fusion

Joint replacement surgery

Radiofrequency Neurotomy

Spine disorder

Joint pain, revision joint replacement

Hip resurfacing

Spinal trauma

Elbow Arthroscopy

Elbow Replacement Surgery

Fracture reduction

Lateral Epicondyle Release (Tennis Elbow)

Osteotomy

Arthrolysis

Open Reduction of Fracture

Shoulder Replacement Surgery

Acromioclavicular Joint Repair

Shoulder Labral Tears Surgery

Surgical decompression

Shoulder Arthroscopy

Arthroscopic Debridement of Calcium Deposits

Repair of dislocations

Repair of Shoulder Rotator Cuff

Extensor mechanism realignment

Paget's Disease

Arthrotomy

Arthroscopic surgery
Related News Articles:
No Related News Articles
Related Patient Stories:
No Related Patient Stories
Get response within 24hrs
Help Us With Your Details