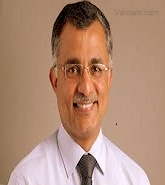 Get response within 24hrs
Cardiologist | Kochi | India
MBBS, MD, DM, MRCP, Fellowship | 22 Years of Experiences
---
Dr R Anil Kumar is one of the most recognised Cardiologist in the field of in clinical and academic Cardiology
He has a vast experience of 22+ years & has been trained in the finest of medical institutes in India.
Dr Kumar has done his MBBS & MD from JIPMER, Pondicherry. Following which he did his DM Cardiology from G B Pant Hospital, Delhi, and MRCP from UK.
He has done his Fellowship from Royal College of Physicians (Edinburgh), Cardiological Society of India, and American College of Cardiology.
Dr Kumar has worked at the Freeman Hospital, Newcastle upon Tyne, UK, and trained in Cardiac Electrophysiology.
Dr Kumar has appeared in various noteworthy news media like ET Health world , The Times of India.
He has been instrumental in starting the first overseas chapter of the Cardiological Society of India in Dubai, UAE.
He has started the program of percutaneous coronary interventions and stenting, radiofrequency ablations of cardiac arrhythmias.
Dr Kumar area of interest lies in advanced management of heart failure and preventive Cardiology.
He can be followed at LinkedIn https://in.linkedin.com/in/anil-kumar-814a53b.
MBBS, 1986, JIPMER ,Pondicherry
MD, 1991, JIPMER ,Pondicherry
DM, 1994, G B Pant Hospital
Dr Anil Kumar has fifteen publications in peer reviewed journals, including Heart and the European Heart Journal.


He has authored chapters in textbooks in cardiology.


He is a regular speaker at many national and international cardiology conferences and has been organizing CMEs and academic programs for the medical community at large.
CARDIAC SURGERY - ADULTS
Off Pump beating CABG LV restoration
surgery
Valve Repair Replacement
Atrial Fibrillation Surgery
Ross Procedure
Cardiac Tumour Treatment
Thoracic Aortic Aneurysm Treatment
Aortic Dissection Repair Surgery
Minimal access surgeries for valves
ASD (Atrial Septal Defect) Closure
Aortofemoral Bypass Surgery
PTE - Pulmonary Thromboendarterectomy
Heart Bypass Surgery (CABG)
Aortic Valve Replacement
Mitral Valve Replacement
VSD Closure (Adult) Surgery
Heart Double Valve Replacement
PPI-Permanent Pacemaker Implant - Double Chamber
CRT- D Implant (Cardiac Resynchronization Therapy)
Related News Articles:
No Related News Articles
Related Patient Stories:
No Related Patient Stories
Get response within 24hrs
Help Us With Your Details