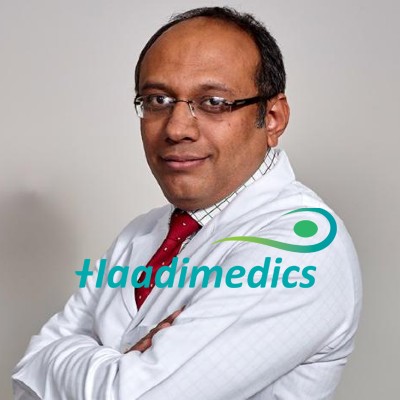 Get response within 24hrs
Hematologist | New Delhi | India
MBBS, MD, DM | 16 Years of Experiences
---
In 2016 Dr Rahul Bhargava became the first Indian doctor to do and popularize stem cell transplant in multiple sclerosis. Owing to his vast experience in this field, Dr Bhargava is considered as one of the best stem cell transplant expert in Delhi and Gurgaon. Since then he has been credited of establishing 6 low cost centres across India namely at Sarvodaya hospital, Batra hospital, Action Balaji hospital etc.
He and his team have successfully completed more than 400 transplants.
His longstanding vision of the first integrated centre of excellence in Haematology, paediatric haematology and stem cell transplant has been fulfilled at Fortis Memorial research Institute.
Due to his active involvement with the community in building awareness around various blood disorders, he is considered as one of the best hematologist in Delhi and Gurgaon.
Qualification: 
MBBS, MD (Medicine), DM (Clinical Haematology)
Main Speciality: 
Institute Of Blood Disorders And Bone Marrow Transplant
Speciality Interests: 
Benin haematology, hematoncology
Paediatric hematoncology
Matched sibling and unrelated and haploidentical transplants
Hematopatholgy and molecular haematology
Work Experience: 
1995-2004 - MBBS and MD medicine Bhopal MP
2005 - 2006 - served as a senior resident in department of haematology and stem cell transplant at CMC Vellore.
2006 – 2009 AIIMS DM graduate New delhi
2011 - 2013 - established first stem cell transplant centre at Medanta the Medicity, Gurgaon and in a short span of 2 years completed 100 transplants.
2013 - 2016 he joined Artemis as Head of Haematology and did the first haploidentical transplant in Gurgaon.
Awards and Honours:
Best outgoing student in MD bhopal
Best outgoing student in DM AIIMS
Professional Memberships:
Champion of community haematology through which he constantly works on Anaemia Free India
Runs a campaign called SAY NO TO WHOLE BLOOD where to educate the community of using blood components
Actively involved in developing haematology in Uzbekistan, Iraq, Uganda, Rwanda and many other countries
Visiting faculty at various national and international universities
Member of ISHTM
Founding member of Delhi hematolgoy Group
Hematology treatment
Bone Marrow Transplantation
Related News Articles:
No Related News Articles
Related Patient Stories:
No Related Patient Stories
Get response within 24hrs
Help Us With Your Details