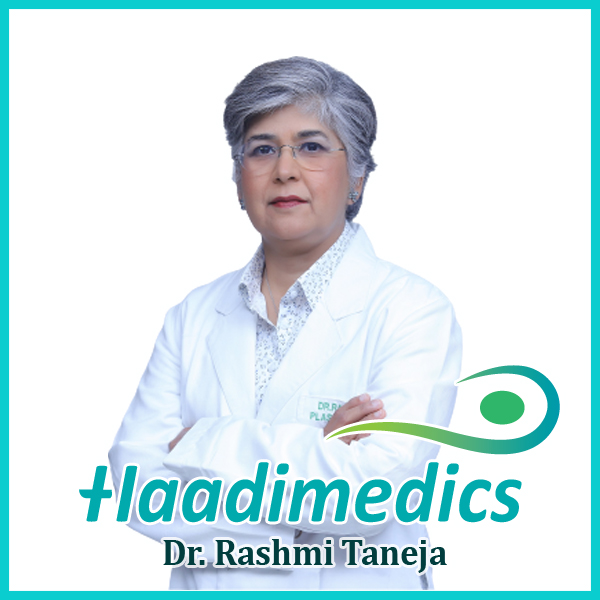 Get response within 24hrs
Plastic and Reconstructive Surgeon | New Delhi | India
MBBS, MD | 31 Years of Experiences
---
Dr. Rashmi Taneja is a Senior Consultant leading the Plastic, Reconstructive and Cosmetic Surgery Department at Fortis Hospital, Vasant Kunj.

She has an extensive experience of more than 31 years in Plastic and Cosmetic surgeries.

Dr. Taneja has successfully completed her Plastic Surgery and advanced Craniofacial Surgery training at the prestigious University of Southern California School of Medicine, Los Angeles, USA, and UCLA-School of Medicine, Los Angeles, USA, respectively.

She is a Board Certified Plastic Surgeon from the American Board of Plastic Surgery, which is well known for it's strict attention for rules and procedures of certification.

Dr. Taneja is also a member of the prestigious American Society of Plastic Surgeons and the Association of Plastic Surgeons of India and the Indian Society of Cleft Lip, Palate and Craniofacial Anomalies.

Her expertise lies in Complex craniofacial surgery, cosmetic surgery, microsurgery, breast reconstruction and breast surgeries, body contouring, and reconstructive surgery. She has over 20 years of successful experience in these complex surgeries.

Through her commitment and hard work in the field of congenital nevi and craniofacial surgery, Dr. Taneja has become a nationally renowned personality.

She graduated from Maulana Azad Medical College and the University of Medicine and Dentistry of New Jersey.

Dr. Taneja holds a prosperous wealth of medical expertise, as she received many awards and honors, and added numerous publications and research papers to her credit.
Maulana Azad Medical College
University of Medicine and Dentistry of New Jersey
Complex craniofacial surgery

Cosmetic surgery

Microsurgery

Breast reconstruction and breast surgeries

Body contouring and reconstructive surgery
Related News Articles:
No Related News Articles
Related Patient Stories:
No Related Patient Stories
Get response within 24hrs
Help Us With Your Details