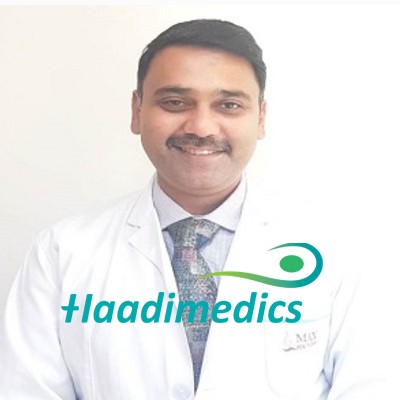 Get response within 24hrs
Obesity and Bariatric Surgeon | New Delhi | India
MS, MBBS | 22 Years of Experiences
---
Dr. Shalabh Mohan is a well known and renowned Bariatric and General Surgeon with an experience of 22 years.


He performs Bariatric and Metabolic Surgery, Laparoscopic Colorectal and Hepatobiliary Surgery, Laparoscopic Upper GI Surgery including Antireflux Surgery, Laparoscopic Oncosurgery, Endocrine and Breast Surgery and Laser Surgery for Varicose Veins, Piles, Fissures and Fistulas etc.


He attended Workshops on Advanced Laparoscopic and Bariatric Surgeries in Singapore, Germany and India.


He has the membership of various prestigious associations such as the Society of American Gastrointestinal and Endoscopic Surgeons (SAGES), Association of Surgeons in India (ASI), Association of Minimal Access Surgeons of India (AMASI), Asia Pacific Hernia Society (APHS), Indian Association of Gastrointestinal and Endoscopic Surgeons (IAGES), International Hepato Pancreatic Biliary Association (IHPBA), British Medical Laser Association.


He has presented 20 Research Papers in Conferences held in India and Abroad and published several articles in International Peer Reviewed Journals.
MBBS - Maulana Azad Medical College
MS(General Surgery) - Lady Hardinge College, New Delhi
FMAS - Association of Minimal Access Surgeons of India
FIAGES - Indian Association of Gastrointestinal and Endoscopic Surgeons
FALS (Fellowship in Advanced Laparoscopic Surgery) – Abdominal Wall Hernia
               Awarded by IAGES (Indian Association of Gastrointestinal Endo Surgeons)
FALS (Fellowship in Advanced Laparoscopic Surgery) – Colorectal Surgery
Work Experience: 
Senior Consultant - Minimal Access and Bariatric Surgery, Primus Super Speciality Hospital, New Delhi - 2010 - 2012
Consultant - Max Hospital, Gurgaon - 2007 - 2010
Visiting Consultant - Max Medcentre, Panchsheel Park and Max Super Speciality Hospital Saket - 2005 - 2007
Senior Registrar - Surgery, Lady Hardinge Medical College - 2001 - 2005
Registrar - Plastic Surgery - Indraprastha Apollo Hospital, New Delhi 
               Awarded by IAGES (Indian Association of Gastrointestinal Endo Surgeons)
FALS (Fellowship in Advanced Laparoscopic Surgery) – Upper GI Surgery
               Awarded by IAGES (Indian Association of Gastrointestinal Endo Surgeons)
Speciality Interest: 
Bariatric and Metabolic Surgery
Laparoscopic colorectal and hepatobiliary surgery
Laparoscopic upper GI surgery including antireflux surgery
Laparoscopic oncosurgery
Endocrine and breast surgery
Laser Surgery for Varicose veins, Piles, Fissures, Fistulas
Memberships:
SAGES - Society of American Gastrointestinal and Endoscopic Surgeons
ASI - Association of Surgeons in India
AMASI - Association of Minimal Access surgeons of India
APHS - Asia Pacific Hernia society
IAGES - Indian Association of Gastrintestinal Endoscopic Surgeons
IHP BA - International Hepato Pancreatic Biliary Association
British Medical Laser Association
Awards Information:
Attended training workshops on advanced laparoscopic and Bariatric surgery in Singapore, Germany and India
Have presented over twenty papers in conferences in India and abroad
Publications in international peer reveiwed journals
Gastric Bypass Surgery
Gastric Banding Surgery
Duodenal Switch
Gastric Sleeve Surgery
laparoscopic biliopancreatic diversion
Anti Aging and Weight Loss Stem Cells Therapy
maestro rechargeable system
Bariatric Surgery for Weight Loss
Related News Articles:
No Related News Articles
Related Patient Stories:
No Related Patient Stories
Get response within 24hrs
Help Us With Your Details