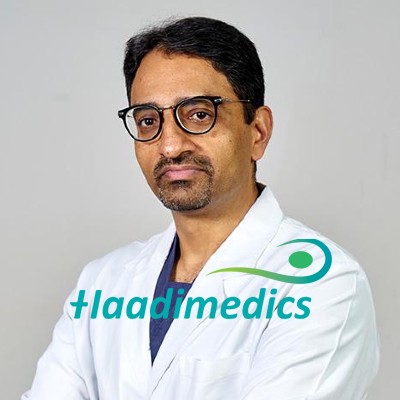 Get response within 24hrs
Orthopaedic and Joint Replacement Surgeon | New Delhi | India
MBBS, MS, DNB, MNAMS, MRCS, M Ch | 19 Years of Experiences
---
Dr Subhash Jangid is currently working as Director, Orthopaedics & Joint Reconstruction at Fortis Memorial Research Institute, Gurgaon.
His primary work comprises of knee, hip and shoulder joints related surgeries including replacement.
He has a vast experience of more than 19 years in the field of Orthopaedics.
He is now a known faculty in the field of Arthroplasty/Joint Replacement in India and abroad.
He is also a faculty for AO trauma courses. He has special interest in peri-articular trauma.
He was the first surgeon in India, who introduced NAV 3 computer navigation for knee replacement surgery.
He is one of the most experienced joint replacement surgeon in computer navigation technique in the world. This technique gives better results to the patients and the recovery is faster as compared to the conventional technique.
Dr Subhash will also introduce the NAVIO Robot for knee replacement surgery at FMRI, Gurgaon. The robotic arm further increases the accuracy of the surgery and the patient feels more like natural knee after surgery. The soft tissue dissection is also very minimal and it is truly a minimal invasive surgery with almost painless recovery.
Dr Subhash Jangid is also trained in Partial knee replacement surgery. Many advanced knee osteoarthritic patients have all ligaments intact and the disease is limited to one compartment of the knee. These are the right candidates for partial knee replacement.
He has performed more than 6000 successful joint replacement surgeries till date.
He is actively involved in research and academics with many multinational surgical companies.
MS (AIIMS), DNB (Ortho), MNAMS, MRCS, M Ch
Work Experience: 
Director, Orthopaedics and Joint Reconstruction, Fortis Memorial research Institute, Gurgaon
Head, Orthopaedics and Joint Reconstruction, Artemis Hospital, Gurgaon
Head, Joint Reconstruction, Fortis Shalimar Bagh, Delhi
Senior Consultant, Joint Reconstruction, Primus Hospital, New
Assistant Professor, Orthopaedics, SN Medical College, Jodhpur
Professional Memberships:
Life Member of the Indian Orthopaedic Association
Life Member of the Indian Society of Hip and Knee surgeons
Life Member of DOA, BOS, ROSA, GOS FOSMI, NAMS
Life Member of ISKSAA
He has many publications in National & International journals to his credit.
He has ben a speaker in National /International Conferences
Reviewer for Journal of Arthroscopy and Joint Surgery (JAJS) by Elsevier
Knee Replacement Surgery
Bilateral Knee replacement
Total Knee Replacement
Unicondylar Knee Replacement
High Flex Knee Replacement
Both Knee Replacement together
Minimally Invasive Knee Replacement Surgery
Revision Single Knee Replacement
Total Hip Replacement
Acetabular Fixation
Cemented Total Hip Replacement
Cementless Total Hip Replacement (THR) Surgery
Revision Hip Replacement
Hip Replacement with Computer Navigation
Minimally Invasive Hip Replacement
Bilateral Hip Replacement Surgery
Both Hip Replacement together
Birmingham Hip Resurfacing BHR
BHR with stem
BMHR
Minimally Invasive Hip Resurfacing
Hip Resurfacing with computer navigation
ACL Reconstruction
Revision ACL Reconstruction Surgery
Patello Femoral Replacement
High Tibial Osteotomy
Lower femoral Osteotomy
Posterior Cruciate Ligament (PCL) Reconstruction
Arthrodesis
Septic Arthritis Treatment
Lateral Retinacular Release Surgery
Arthroscopic Menisectomy
Autologous Chondrocyte Implantation (ACI)
Meniscal Repair
Osteochondral Autografting - Mosaicplasty Surgery
Palmar Fasciectomy
Tendon Repair Surgery: Flexor Extensor
Thumb Arthroplasty
Tendon Transfer
Internal Fixation of Fractures
Skin Grafting
Pollicization Surgery
Syndactyly (Webbing) Treatment
Repair of Digital Nerves
Synovectomy of Hand
Tenodesis tenolysis and tendon transfers and grafts
Boutonniere Deformity Treatment
Wrist Joint Replacement (Wrist Arthroplasty)
Neurolysis Procedure
Ganglion Cyst Excision
Elbow Replacement Surgery
Elbow Arthroscopy
Lateral Epicondyle Release (Tennis Elbow)
Fracture reduction and fixation
Osteotomy
Arthrolysis
Shoulder Replacement Surgery
Open Reduction of Fracture
Knee Arthroscopy
Arthrotomy
Repair of Shoulder Rotator Cuff
Acromioclavicular Joint Repair
Repair of dislocations
Shoulder Labral Tears Surgery
Surgical decompression
Extensor mechanism realignment
Arthrotomy
Arthroscopic surgery
Reduction of fractures open
Closed Reduction for Fracture
Arthroplasty
Arthrodesis
Carpal Tunnel Release (CTR) Open or Endoscopic
Related News Articles:
No Related News Articles
Related Patient Stories:
No Related Patient Stories
Get response within 24hrs
Help Us With Your Details