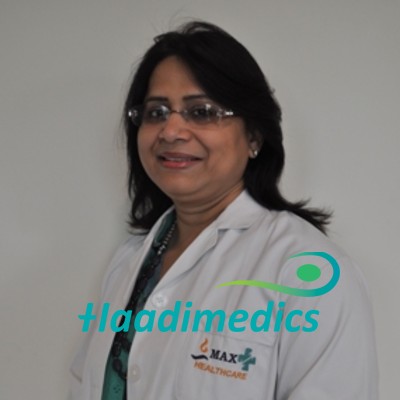 Get response within 24hrs
Obstetrician and Gynecologist | New Delhi | India
M.B.B.S, MD, FIMSA, FICMCH, MICMCH | 15 Years of Experiences
---
Dr Suman Lal is a senior consultant in the field of Obstetrics and Gynecology in Gurgaon with more than 15 years of extensive experience in the field. She has undertaken special trainings in Infertility, Advanced Gynecological Surgeries, Operative Obstetrics, High Risk Pregnancies and Menopause. Advanced Gynecological Endoscopic Surgeries (Laparoscopic Hysterectomy and Myomectomy, Operative Hysteroscopy), Infertility & Fertility enhancing surgeries are her fields of interest. She is also well-trained in Assisted Reproduction Techniques and In-Vitro Fertilization.
Dr Suman completed her MBBS from Patna Medical College and Hospital and her Post Graduation in Obstetrics and Gynecology from the prestigious All India Institute of Medical Sciences (AIIMS), New Delhi.
An avid learner, Dr Suman continues to enhance her skills and knowledge. She has done specialized trainings in Advanced Endoscopy at Pulse IVF and Endoscopy Centre Ahmedabad, Ethicon Institute of surgical Education.
A Passionate and dedicated doctor, Dr Suman has helped distressed females achieve successful pregnancies. More than 1000 pregnancies have been achieved with her work in infertility. A doctor well- known for her professionalism as well as an amazing human being, Dr Suman has also been associated with many research projects pertaining to infertility and endometriosis.
Furthermore, she is an expert on medico-legal issues and has been associated with ISO and NABH accreditation in the Obstetrics &Gynecology Department.
Since 2007, Dr Suman Lal is working in leading institutions in South Delhi and Gurgaon. A keen observer, an enthusiastic learner, and a passionate doctor, she is always involved in learning new techniques to improve the life of her patients.
Education & Training: 
Gold medalist in Gynecology
M.B.B.S from PAT
M.D from AIIMS, Delhi
Diploma in Advanced Gynae Laparoscopic Surgery (Germany)
Diploma in FIMSA, FICMCH, MICMCH
MBBS (Gold Medalist), MD (AIIMS), FIMSA, FICMCH, MICMCH
Diploma in Advanced Gynecology Laparoscopic Surgery (Germany)
Trained in Infertility, IVF and Assisted Reproduction
Speciality Interest: 
Advanced Gynae Endoscopic Surgeries
High risk pregnancy and critical care
Infertility & Fertility Enhancing Surgeries
Adolescent Gynaecology
PCOS
Recipient of Prizes for Academic Papers nationally and internationally
Invited by reputed national TV channels on Women Health Issues
Membership
International membership of Federation of Asia and Oceania Perinatal Societies (FAOPS).
Federation of obstetrician and Gynecologist of India (FOGSI)
Indian Society of Perinatal and Reproductive Biology (ISOPARB)
Indian society of Fertility (IFA)
Indian Society of Gynecology Endoscopy (ISGE)
Fellow of Indian Child and Maternal Health (FICMCH)
FIMSA
Association of Obstetricians and Gynecologists of Delhi (AOGD)
Gynecologists of Gurgaon Society (GOGS)
Delhi Gynecology Endoscopic Societies (DHES)
Premature Ovarian Failure
Embryo Cryopreservation with IVF
Oocyte Cryopreservation (Egg Freezing)
Ovarian Tissue Freezing
IVF with Donor Eggs
Anal Sphincteroplasty
Bladder Instillation
Botulinum Toxin Injections
Cystoscopy
Gynecologic Reconstructive Surgery
Pelvic Floor Reconstruction
Pessary Insertion
Prolapse Surgery or Surgical Repair of
POP - Pelvic Organ Prolapse Treatment
SNS - Sacral Nerve Stimulation
Sling Procedures for Urinary Incontinence
Urethral Bulking Injections
Urodynamic Testing
Vestibulectomy
Colposcopy
Diagnostic Hysteroscopy
Endometrial Ablation
Female Sterilization - Tubectomy
Hysterectomy
Laparoscopic Gynecological Surgery
Laparoscopic Hysterectomy
Laparoscopic Supracervical Hysterectomy
Laparoscopic Treatment of
Ovarian Cyst Removal
Pelvic Surgery
Pelvic Reconstructive Surgery
Robotic Female Surgery or
Advanced Robotics
Endometriosis Surgery
Therapeutic Hysteroscopy
Uterine Fibroid Embolization (UFE)
Labiaplasty (Labia Rejuvenation)
Blocked Fallopian Tube Treatment
IVF
Intracytoplasmic Sperm Injection Procedure ICSI
Fertility Surgeries
Fibroid Removal Surgery
Myomectomy Surgery
Operative Laparoscopy
Hysteroscopy
Laparoscopic Vaginal Hysterectomy
Laparoscopic supra cervical Hysterectomy
Total Laparoscopic Hysterectomy
Laparoscopic Tubal Ligation
Fibroid Removal Myomectomy
Ovarian Cysts Removal
Excision Removal of Endometriosis
Sacrocolpopexy
correction
Adhesion Surgery
Diagnostic Laparoscopy
Hysteroscopy
Endometrial Ablation
Polypectomy
Myomectomy
Diagnostic hysterectomy
Hysterectomy
Anterior Posterior Repair Colporrhaphy
repair Posterior repair
Bladder Slings (TOT and TVT slings)
Colporrhaphy
LEEP - Loop Electrosurgical Excision Procedure
IUD Insertion - Intrauterine Device Insertion
Cervical polyp removal
REPRODUCTIVE ENDOCRINOLOGY AND INFERTILITY
In Vitro Fertilization IVF
Male Factor Infertility
Preimplantation Genetic Diagnosis - PGD
PGD
Intracytoplasmic Sperm Injection
ICSI
Donor Oocytes
Polycystic Ovary Syndrome (PCOS) Treatment
Recurrent Miscarriage Treatment
Uterine Fibroids
Endometriosis
Irregular Periods Treatment (Irregular Menstrual Cycle)
Hirsutism Treatment
Hyperprolactinemia Treatment
Perimenopause Treatment
Related News Articles:
No Related News Articles
Related Patient Stories:
No Related Patient Stories
Get response within 24hrs
Help Us With Your Details