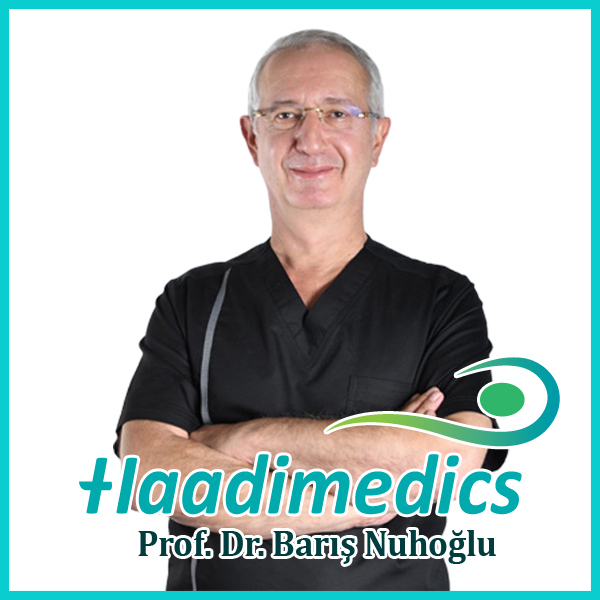 Get response within 24hrs
Men Aesthetics and Urologist | Istanbul | Turkey
MD | Years of Experiences
---
Prof Dr. Barış Nuhoğlu is world-renowned urologist

His specialization lies in adult and paediatric urology.

He is currently the director of Urology Department in Yeni Yüzyıl University

He completed his post-graduation from Uludag University Faculty of Medicine / Bursa, and previous studies from Kabataş High School for Boys / Istanbul, Göztepe Secondary School / Istanbul, and Harun Reşit Primary School / Istanbul

He achieved his Professorship in 2011, Associate Professorship in

2006, Urology Specialist in 1997, and Medical Doctor in 1988.

Prof Dr. Barış's is the author of more than 100 publications, presentations and book chapters, 58 of which are international.

He is a an active member of numerous international health organization including, European Association of Urology, Turkish Urology Associationm, Northern Marmara, Urology Association, Endourology Society, and Nuhoglu Foundation.
Uludag University Faculty of Medicine / Bursa

Kabataş High School for Boys / Istanbul

Göztepe Secondary School / Istanbul

Harun Reşit Primary School / Istanbul
Mixed Germ Cell Tumor of the Testis with Post-Chemotherapy Perineal Tumor Recurrence

B Nuhoglu, Z Akbulut, T Akgul, A Ayyildiz, A Caglayan, A Demirci, …

African Journal of Urology 13 (3), 203-205

The role of bipolar transurethral vaporization in the management of benign prostatic hyperplasia

B Nuhoğlu, MBC Balci, M Aydin, I Hazar, Ö Onuk, T Taş, O Idea

Urologia internationalis 87 (4), 400-404

Transurethral electrovaporization of the prostate: is it any better than standard transurethral prostatectomy? 5-year follow-up

B Nuhoǧlu, A Ayyildiz, V Fidan, E Ersoy, E Huri, C Germiyanoǧlu

Journal of endourology 19 (1), 79-82

Plasmakinetic prostate resection in the treatment of benign prostate hyperplasia: Results of 1‐year follow up

B Nuhoğlu, A Ayyildiz, E KARAGUZEL, Ö Cebeci, C Germiyanoğlu

International journal of urology 13 (1), 21-24

Stoller afferent nerve stimulation in woman with therapy resistant over active bladder; a 1-year follow up

B Nuhoğlu, V Fidan, A Ayyıldız, E Ersoy, C Germiyanoğlu

International urogynecology journal 17 (3), 204-207

Surgical treatment options in proximal hypospadias: retrospective analysis of 171 cases at a single institution

B Nuhoğlu, A Ayyildiz, U Balci, E Ersoy, M Gürdal, C Germiyanoglu, …

International urology and nephrology 38 (3), 593-598

814Abstract The evaluation of detrusor regeneration biocompatibility in the rat model using porcine small intestinal submucosa

A Ayyildiz, E Huri, B Nuhoglu, M Gurdal, M Caydere, H Ustun, …

European Urology Supplements 4 (3), 206

A comparison of free skin graft, fascia lata, alloderm, bovine pericardium and primary repair in urethrocutaneous fistulas without diversion: an experimental study

A Ayyildiz, B Çelebi, KT Akgül, B Nuhoğlu, M Çaydere, C Germiyanoğlu

Pediatric surgery international 22 (10), 809-814

A foreign body self-inserted via the urethra into the bladder: pocket battery

A Ayyıldız, M Gürdal, B Nuhoğlu, E Ersoy, E Huri, C Germiyanoğlu

International urology and nephrology 35 (2), 251-252

Acute Urinary Retention Due to Retrovesical Hematoma: A Case Report

T Akgul, O Polat, B Nuhoglu, A Ayyildiz, C Germiyanoglu

The Kaohsiung journal of medical sciences 23 (12), 631-633

An Experimental Study: Does Topically Applied Sildenafil Citrate (Sildegra®) Have an Effect on the Preservation of the Viability of the Graft in Full-Thickness Tubed Free Skin Grafts?

ALİ AYYILDIZ, KT Akgül, B NUHOĞLU, E Huri, M Çaydere, H Üstün, …

Turkish Journal of Medical Sciences 36 (6), 343-348

An in vitro study comparing the coagulation and cautery effects of bipolar and unipolar cutting modalities on prostatic tissue

T Akgül, B Nuhoğlu, O Polat, A Ayyıldız, M Astarcı, C Germiyanoğlu, …

Urologia internationalis 83 (4), 458-462

Are there roles of estrogen and progesterone receptors in the prognosis of stress urinary incontinence surgery?

T Akgul, A Ayyilddiz, E Huri, B Nuhoglu, H Ustun, C Germiyanoglu

JOURNAL OF ENDOUROLOGY 20, A120-A120

Association between serum fetuin‐A level and erectile function

M Karabakan, A Bozkurt, M Gunay, BK Aktas, E Hirik, M Aydın, B Nuhoglu

Andrologia 48 (7), 787-792

Combined anterior transobturator mesh with four straps and laparoscopic sacrocol-popexy in the treatment of pelvic organ prolapse: our early experience in two cases

MBC Balcı, O Sinanoğlu, T Taş, O Ceylan, AI Hazar, B Nuhoğlu

Turkish Journal of Urology 36 (3), 314-318

Comparison of alpha blockers in treatment of premature ejaculation: a pilot clinical trial

Y Akin, H Gulmez, M Ates, A Bozkurt, B Nuhoglu

Iranian Red Crescent Medical Journal 15 (10)

Comparison of different ligation techniques in laparoscopic varicocelectomy

Y AKIN, M ATEŞ, S YÜCEL, I BAŞARA, O Celik, A Bozkurt, B NUHOĞLU

Turkish journal of medical sciences 44 (2), 273-278

Comparison of plasmakinetic transurethral resection of the prostate with monopolar transurethral resection of the prostate in terms of urethral stricture rates in patients with comorbidities

Sinanoglu, S Ekici, MBC Balci, AI Hazar, B Nuhoglu

Prostate international 2 (3), 121-126

Comparison of transurethral prostate resection and plasmakinetic prostate resection according to cautery artefacts in tissue specimens

KT Akgül, A Ayyıldız, B Nuhoğlu, M Çaydere, H Üstün, C Germiyanoğlu

International urology and nephrology 39 (4), 1091-1096

Do children with primary nocturnal enuresis have a retarded bone age? A cross-sectional study.

Nuhoğlu B, Ayyildiz A, Fidan V, Cebeci O, Kosar U

Do hydronephrosis and extracorporeal shock wave lithotripsy affect carbohydrate antigens?

T Akgül, B Nuhoğlu, A Ayyıldız, U Balcı, SN Ayyıldız, C Germiyanoğlu

International urology and nephrology 39 (4), 1001-1004

Early term results of transobtratore tape (TOT) in stress urinary incontinence (SUI)

T Akgul, E Huri, B Nuhoglu, C Germiyanoglu

JOURNAL OF ENDOUROLOGY 20, A122-A122

Effect of cyanoacrylic glue on penile fracture: an experimental study

T Akgül, A Ayyıldız, Ö Cebeci, B Nuhoğlu, E Özer, C Germiyanoğlu, …

The Journal of urology 180 (2), 749-752

Effect of intraurethral Mitomycin‐C on healing and fibrosis in rats with experimentally induced urethral stricture

A Ayyildiz, B Nuhoglu, B GÜLERKAYA, M Caydere, HU Üstün, …

International journal of urology 11 (12), 1122-1126

Effect of phospodiesterase 5 inhibitors on apoptosis and nitric oxide synthases in testis torsion: an experimental study

H Üstün, KT Akgül, A Ayyıldız, H Yağmurdur, B Nuhoğlu, E Karagüzel, …

Pediatric surgery international 24 (2), 205-211

Evaluation of open and laparoscopic radical cystoprostatectomy combined with orthotopic neobladder: a single-surgeon experience

Y Akin, O Celik, M Ates, B Nuhoglu, T Erdogru

Urologia internationalis 90 (3), 348-353

Factors affecting treatment success of staghorn calculi: stone burden or stone locations/Factors affecting success in the treatment of staghorn stones: Stone burden or distribution of stones

MBC Balci, M Aydin, I Hazar, O Onuk, B Nuhoglu

Turkish Journal of Urology 37 (3), 217-223

Ginkgo biloba (EGb 761) usage attenuates testicular injury induced by testicular ischemia/reperfusion in rats

T Akgül, A Ayyıldız, B Nuhoğlu, M Karagüzel, E Öğüş, H Yağmurdur, …

International urology and nephrology 40 (3), 685-690

Incidental Prostate Cancer Frequency and Features of Patients Undergoing Radical Cystoprostatectomy

MBC Balcı, Ö Onuk, AI Hazar, A Özkan, NC Çilesiz, F Yanaral, B Nuhoğlu

JOURNAL OF ACADEMIC RESEARCH IN MEDICINE-JAREM 6 (1), 15-18

Investigation of factors affecting result of distal hypospadias repair: comparison of two techniques

C Germiyanoğlu, B Nuhoğlu, A Ayyildiz, KT Akgül

Urology 68 (1), 182-185

Is tubeless percutaneous nephrolithotomy really less injurious than standard in the midterm?

Y Akin, I Basara, S Yucel, H Gulmez, M Ates, A Bozkurt, B Nuhoglu, …

Journal of endourology 27 (10), 1192-1196

Lower urinary tract symptoms, prostate volume, uroflowmetry, residual urine volume and bladder wall thickness in Turkish men: a comparative analysis

L Işıkay, KT Akgül, B Nuhoğlu, G Özdemir, A Ayyıldız, T Çavumirza, …

International urology and nephrology 39 (4), 1131-1135

Open Surgery Following Endourological Treatment in Leiomyoma of the Bladder: Case Report

R GÜNGÖR, Ö ONUK, AI HAZAR, A ÖZKAN, CT GEZMİŞ, B NUHOĞLU

Journal of Reconstructive Urology 6 (2), 45-48

Pelvic inflammatory myofibroblastic tumor mimicking scrotal mass: an extremely rare case

S Aykan, Y Akin, I Basara, M Ates, M Tuken, M Uyar, B Nuhoglu, …

Scottish medical journal 60 (1), e8-e10

Prognostic value of endocan in prostate cancer: clinicopathologic association between serum endocan levels and biochemical recurrence after radical prostatectomy.

B Arslan, Ö Onuk, İ Hazar, M Aydın, NC Cilesiz, A Eroglu, B Nuhoglu

Tumori 103 (2), 204-208
Urooncology

Endo urology

Robotic surgery

Laparoscopic surgery and andrology.

Penile Aesthetics

Drug Therapy

Hormone Therapy

Transurethral Prostatectomy

Laser prostatectomy

Urethral Stenting

Extracorporeal shock wave lithotripsy

Endoscopic procedures

Prostate Cancer

Testicular Cancer

Bladder Cancer

Hypospadias

Cryptorchidism

Bladder Exstrophy

Vesicoureteral Reflux

Urinary incontinence in children

Circumcision

Hydrocele (Dropsy of the testicle)
Related News Articles:
No Related News Articles
Related Patient Stories:
No Related Patient Stories
Get response within 24hrs
Help Us With Your Details