Hospital: Apollo Gleneagles Hospital, Kolkata
Name:

Apollo Gleneagles Hospital, Kolkata

Established In:

2003

No of Beds:

700

No of ICU Beds:

Country:

India

City:

Kolkata

Website: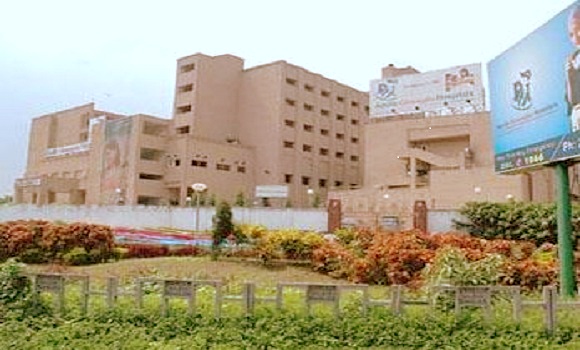 Top Doctors in Apollo Gleneagles Hospital, Kolkata
Apollo Gleneagles Hospital, Kolkata
---
Apollo Gleneagles Hospitals, Kolkata was established in 2003 and is a perfect combination of technological excellence, infrastructure, competent care and warm hospitality.
It is a joint venture of Apollo Group of Hospitals, India and Parkway Health of Singapore.
Parkway Group is a leading healthcare group in Asia. It provides more than 70% of private healthcare in Singapore. Its subsidiaries include Parkway Group Healthcare, which owns a network of regional hospitals and medical centres in Malaysia, India and Brunei.
Apollo Gleneagles hospitals was ranked the best multi-speciality hospital in Kolkata by the THE WEEK-A C Nielsen, Best Hospital Survey 2013.
Apollo Gleneagles Cancer Hospital has also introduced Novalis TX with Brain LAB, the revolutionary technology in Radiation Therapy (RT). This technology has the advantage of maximizing tumour destruction while minimizing the damage to normal tissues.
The other important facilities offered include IGRT THERAPY , IMRT THERAPY, Comprehensive Brachytherapy by image 4D-CRT ,Knifeless Surgery of Brain by Radiosurgery, all these for the first time in Eastern India.
It is the only hospital in Eastern India to be accredited with the Joint Commission International (JCI) accreditation, the international benchmark for quality care.
Apollo Gleneagles Hospitals, Kolkata has launched India's first Cellvizio System.
It has conducted the first ever Reverse Shoulder Prosthesis Replacement in East India.
It has performed the first successful critical neurosurgery on a child patient suffering from a critical cyst similar to a second head. The eight-month-old child was born with a rare and unheard condition of Encephalomeningocele. This surgery was the first of its kind in the entire country.
Apollo Gleneaagles are the first in Eastern India to organise a live workshop on CARTO or Electrophysiology Mapping Technique.
They are also recognised for being performing the first ever cadaver transplant in Eastern India.
Specialities
---
The ophthalmologic department has a well-trained clinical excellence team, which has successfully carried out over 1000 eye surgeries within the first year of its inception.


The oncology department has one of the most advanced treatment options available,Novalis Tx radiosurgery & radiotherapy.


They have a 100 bedded cancer unit including, 50 bedded surgical unit in the main hospital.
Fecilities
---
COMFORT DURING STAY
TV in room
Private rooms
Free Wifi
Phone in Room
Mobility accessible rooms
Family accommodation
Laundry
Welcome
MONEY MATTERS
Health insurance coordination
Medical travel insurance
Foreign currency exchange
ATM
Credit Card
Debit Card
Netbanking
FOOD
Diet on Request
Restaurant
International Cuisine
Self-Cooking
TREATMENT RELATED
Medical records transfer
Online doctor consultation
Rehabilitation
Pharmacy
Document legalisation
Post operative followup
LANGUAGE
Interpreter
Translation services
TRANSPORTATION
Airport pickup
Local tourism options
Local transportation booking
Visa / Travel office
Car Hire
Private driver / Limousine services
Shopping trip organisation
Air ambulance
Infrastructure
---
Apollo Gleneagles Hospital is a 700 bedded hospital.
The Food and Beverage Department of Apollo Gleneagles Hospitals (AGH), Kolkata is the First F & B Department of any Hospital in India to get the coveted ISO 22000:2005 - HACCP certification. It is certified by British Standards Institution (BSIUK).
Apollo Gleneagles Hospitals, Kolkata has been the 1st hospital in Eastern India to:

Launch 64-Slice CT Angio Scan- the non-surgical test to assess the coronary health and predict heart diseases.
Launch MRI with PET technology,
Introduce Radio Frequency Ablation for gastrointestinal malignancies.
Introduce Narrow Band Imaging (NBI) and Fujinon Intelligent Contrast Enhancement (FICE) - two latest technologies for treatment of gastrointestinal ailments.
Offer complementary therapies like Panic Healing and Ayurveda.
Introduce 3-D mapping in Electrophysiology Study - essential for treatment of cardiac arrhythmia.
Have a dedicated unit for day care surgeries.
To implant Dual Chamber ICD- latest gadget to prevent Sudden Cardiac Death (SCD).
Introduce Integrated Psychometric testing Unit.
Near by Locations
---
Get response within 24hrs
Help Us With Your Details