Hospital: Fortis Hospital, Shalimar Bagh, New Delhi
Name:

Fortis Hospital, Shalimar Bagh, New Delhi

Established In:

2010

No of Beds:

262

No of ICU Beds:

50

Country:

hospital-28.jpg

City:

New Delhi

Website: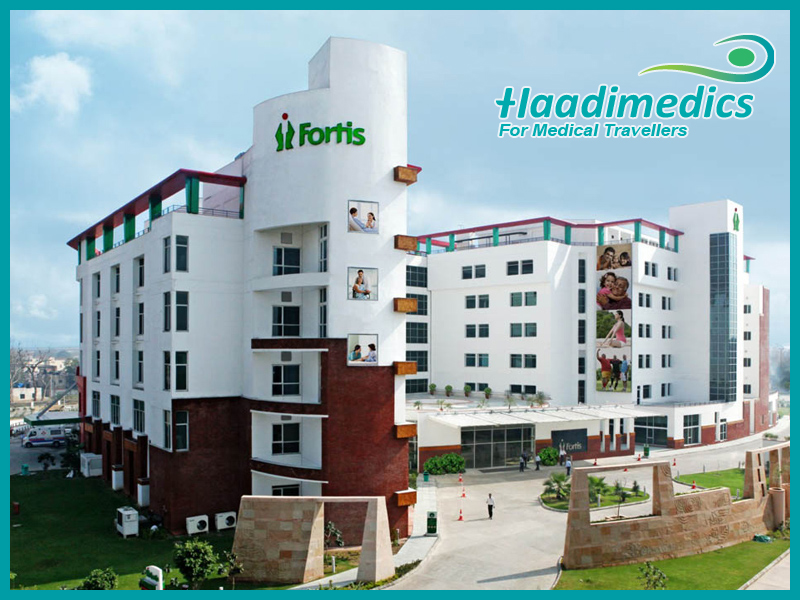 Top Doctors in Fortis Hospital, Shalimar Bagh, New Delhi
Fortis Hospital, Shalimar Bagh, New Delhi
---
Fortis Hospital, Shalimar Bagh, New Delhi, is a multi super speciality hospital offering super specializations within departments, with the mission of providing quality medical care.
This is one of the largest hospitals in the Fortis Group which commenced its operations in the year 2010 and serves the residents of North, West and North-West Delhi, and the neighbouring states.
It is located at the heart of North Delhi between Subhash Place and Azadpur Metro stations.
It's easy accessibility is also extended to those entering the city via Karnal and Rohtak roads.
The hospital is equipped with 262 beds and is spread over an area of 7.34 acre with built up area of 3.87 lakh sq. ft, brings a wealth of medical expertise with the finest talents amongst doctors, nurses, technicians and management professionals in an environment that enables them to deliver the highest quality of healthcare through state-of-the-art facilities that aims at leaving no stone unturned in enhancing patient centric care.
Fortis Hospital, Shalimar Bagh strives to be the champion for quality and patient centricity and is an NABH accredited hospital.
Doctors at Fortis Shalimar Bagh managed to save a 14 year-old boy after a fence impaled his face while playing in the park. Saksham Gadia, a Class IX student recovered from a complex surgery performed by a team led by Dr Richie Gupta, Sr. Consultant, Department of Plastic, Aesthetic & Reconstructive Surgery at FHSB.
Specialities
---
Fortis Hospital, Shalimar Bagh, is the first hospital building in India to have registered for the green building rating system. It has been designed as an energy efficient building that complies with the ECBC (Energy Conservation Building Code) and is undergoing TERI GRIHA (Green Rating for Integrated Habitat Assessment) green rating certification.
The hospital has received 3 Star rating for its building by the Bureau of Energy Efficiency, Government of India, under the Ministry of Power, making it the only hospital from Delhi to receive such recognition.
Federation of Indian Chambers of Commerce and Industry (FICCI) has recognised the hospital's excellence in branding, marketing & image building with the FICCI HEAL 2014 award.
Fecilities
---
COMFORT DURING STAY
TV in room
Private rooms
Free Wifi
Phone in Room
Mobility accessible rooms
Family accommodation
Laundry
Welcome
MONEY MATTERS
Health insurance coordination
Medical travel insurance
Foreign currency exchange
ATM
Credit Card
Debit Card
Netbanking
FOOD
Diet on Request
Restaurant
International Cuisine
TREATMENT RELATED
Medical records transfer
Online doctor consultation
Rehabilitation
Pharmacy
Document legalisation
Post operative followup
LANGUAGE
Interpreter
Translation services
TRANSPORTATION
Airport pickup
Local tourism options
Local transportation booking
Visa / Travel office
Car Hire
Private driver / Limousine services
Infrastructure
---
World class trauma facility is operational 24x7.
A state-of-the-art 256 Slice Brilliance iCT Scanner is used across all Fortis Hospitals.
Fortis Group is the first in the world to conduct Radiation Therapy.
Brain Suite, CT based Brain Suite, equipped with Intra-Operative CT for brain and spine are used at all its branches.
300 beds the multi specialty hospital also houses 48 Private classic Rooms & 21 Twin Classic Rooms, 48 Twin Premium Rooms,  2 Private Premium Rooms and 6 suites.
Economy room can incorporate 8 adults (male) and 8 adults (female).
All rooms are comfortable, quiet and contain all the amenities required for a safe and rested recovery.
State-of-the-art ambulatory systems for emergencies along with Non-Invasive Image Processing, Echocardiography, Stress Tests, Cardiovascular CT's and Thallium heart mapping.
The Radiology Department is equipped with full range of radiological services related to MRI, CT, Ultrasound, Fluoroscopy, Mammography, Dexa, X-Rays and intervention procedures.
Has well-equipped Life Support Ambulances.
World's first Digital MRI technology 3 Tesla is used across all the Fortis Hospitals.
Blood bank is operational 24x7.
Near by Locations
---
Near New Delhi Airport
Near Metro station
Get response within 24hrs
Help Us With Your Details