Hospital: Memorial Hospital Group, Turkey
Name:

Memorial Hospital Group, Turkey

Established In:

1995

No of Beds:

1400

No of ICU Beds:

350

Country:

Turkey

City:

Istanbul

Website: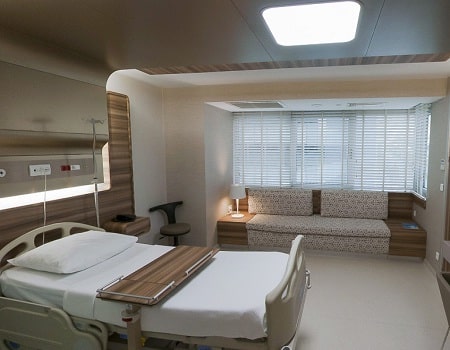 Top Doctors in Memorial Hospital Group, Turkey
Memorial Hospital Group, Turkey
---
Memorial Hospital Group is the first Turkish hospital to become JCI (Joint Commission International) accredited, which is the gold standard in health care sector.

It is also the first hospital in Turkey to join American Hospital Association) (AHA)

The group annually serve 75,000 international patients from more than 167 countries.

The group has 11 highly technological and patient-oriented hospitals and 2 medical centres and 1 wellness centre in 5 Turkish cities including Istanbul, Ankara, Antalya, Kayseri and Diyarbakir.

The group has a team of expert doctors having more than 19 years of experience.

2.4 million Patients and 85.000 surgeries per year

Departments of The Group are internationally known.

Memorial's Second Opinion including treatment plan prepared by Memorial Physicians
The Hospitals in Memorial Group :
1. Memorial Sisli Hospital
Memorial Health Group started the health care project in its first hospital, Memorial Sisli Hospital in 1996. Construction of this hospital took approximately 3 years to be completed, therefore it received its first patient only in February 2000. The Hospital has received JCI (Joint Commission International) Accreditation Certificate, which is world registered trademark of world-class quality health service, as the first in Turkey and the twenty-first one in the world. Memorial Şişli Hospital is an international reference centre that admits patients from 167 countries.
The hospital locates in a 53.000 m² closed area, with a capacity of 252 beds. It provides health service with 13 operating rooms, 4 intensive care units (KVC, general, coronary, neonatal) and 3 laboratories. It also has Organ Transplantation Center, IVF Center, Genetic Center, Stroke Center, Breast Health and Diseases Center, Oncology Center, Vinci Robotic Surgery Center and Bone Marrow Transplant Center.
2. Memorial Ataşehir Hospital
Memorial Ataşehir Hospital, located on the Anatolian side of Istanbul, stared it's service in 2010 with its modern infrastructure, advanced medical technology devices, comfortable patient rooms and polyclinics. The Hospital provides service at international health standards with a capacity of 144 beds on its modernized building on an area of ​​22 thousand square meters.
The IVF Center of Memorial Ataşehir Hospital, which has a success above the world average in liver and kidney transplant surgeries performed at the Organ Transplantation Center, serves as the IVF treatment base of the Memorial Health Group. The Department of Medical Oncology provides the services at all stages of cancer diagnosis and treatment processes.
3. Memorial Bahçelievler Hospital
Memorial Bahçelievler Hospital has been established as the 11th hospital project of Memorial Health Group. Currently it serves in 72 thousand square meters, there also is a green area of 8 thousand square meters.
The hospital holds the capacity of 320 beds, 15 operating rooms, one of them being a hybrid operating room, 49 intensive care unit bed capacity, 135 outpatient clinics and 31 medical observation rooms.
The hospital is designed in well infrastructure for all part with a consideration for the comfort of patients, their relatives as well as the employees.
The hospital's technological infrastructure; has been equipped with one of the most advanced systems in cancer treatment, the new generation beam therapy Elekta Versa HD SIGNATURE, robotic surgery, radiological imaging systems (MR, CT, PET-CT, gamma camera, x-ray, mammography, fluoroscopy, ultrasound, echocardiography and angiography).
4. Memorial Ankara Hospital
Memorial Ankara Hospital is the 10th hospital of Memorial Group, which has well equipped technological infrastructure 42,000 square meters of closed area.
The hospital provides service with 230 bed capacity, of which 60 are in intensive care units, 11 operating rooms and 63 polyclinics. Patients are much less exposed to radiation during operation by using 256-sliced Computerized Tomography (CT) device.
5. Memorial Antalya Hospital
Memorial Antalya Hospital provides modern medical service with 114 patients and 28 intensive care beds, 5 operating theatres, Radiology Department with advanced technology, Intensive Care units with day and night perception, Coronary Angio Service, Interventional Radiology Unit, Chemotherapy and Art Center.
The hospital is structured with modern architectural design, patient rooms and living spaces with all the features expected from a 5-star hotel together with quality and comfort that will positively affect patient psychology.
Specialities
---
The group has centres of excellence for several key specialities consist of Orthopedics, Cardiology, Neurosciences, Urology, Gynecology, Hematology and Gastroenterology)

Performing 3.600 cardiovascular surgeries and 12.000 angiographies per year, including TAVI, Mitra Clip and CTO Lead Extraction.

Integrated team approach combined with cutting-edge technology in Oncology (TrueBeam STx, PET-CT, ELEKTA Versa HD)

Worldwide known transplant centres with a count of 260 liver, 350 kidney and 350 bone-marrow transplants per year.

International referenced centres for In-Vitro with 9.000 cycles per year.

The group team consist of more than 7000 employees

Multilanguage speaking staff and provision of interpreting service.

Cost estimates for anticipated treatment options.
The specialities at the hosptial:
Fecilities
---
COMFORT DURING STAY
TV in room

Private rooms

Free Wifi

Phone in Room

Mobility accessible rooms

Family accommodation

Laundry

Welcome
MONEY MATTERS
Health insurance coordination

Medical travel insurance

Foreign currency exchange

ATM

Credit Card

Debit Card

Netbanking
FOOD
Diet on Request

Restaurant

International Cuisine
TREATMENT RELATED
Medical records transfer

Online doctor consultation

Rehabilitation

Pharmacy

Document legalisation

Post operative followup
LANGUAGE
Interpreter

Translation services
TRANSPORTATION
Airport pickup

Local tourism options

Local transportation booking

Visa / Travel office

Car Hire

Air ambulance
Infrastructure
---
Memorial Health Group has 11 highly technological and patient-oriented hospitals and 2 medical centres and 1 wellness centre.
Near by Locations
---
Istanbul, Ankara, Antalya, Kayseri and Diyarbakir.  
Get response within 24hrs
Help Us With Your Details