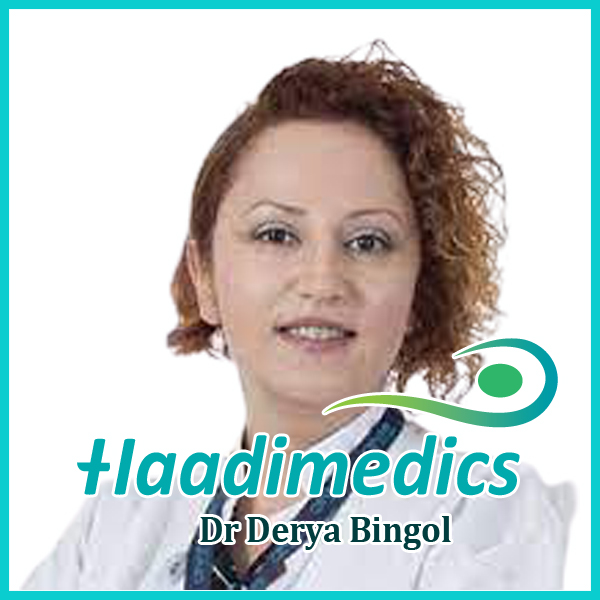 Get response within 24hrs
Cosmetic, Plastic surgeon | Istanbul | Turkey
| Years of Experiences
---
Dr. Derya Bingol is a Reconstructive Cosmetic Surgeon having more than 14 years of experience in the field.

Dr. Bingol provides the best treatments in the aesthetic field, including reinforcement mammoplasty (breast augmentation), body shaping, skin graft application, hymenoplasty, light filling and works on Breast Aesthetics, Breast Prosthesis, Breast Augmentation, Breast Lifting, and Breast Reduction.

Dr. Bingol has achieved professional membership with the Turkish Board of Plastic Reconstructive and Aesthetic Surgery Certification in 2016, the Turkish Society of Plastic, and The European Board of Plastic Reconstructive and Aesthetic Surgery.

Dr. Bingol has received numerous awards for her incredible contribution to this certain field in Turkey, including "doctor of the year" title by the Ministry of Health recognizing to her success in her mandatory service duty in 2014.

Dr. Bingol has also done various courses in the hair transplant field, which makes her best for the cosmetic surgeons.
Graduated from İstanbul Marmara University Medical School in English language in 2005.

Won Specialized Exam in Medicine (TUS) and started her residency in Plastic, Reconstructive and Aesthetic Surgery at Okmeydanı Training and Research Hospital in İstanbul, in 2006,

Completed plastic, reconstructive and aesthetic surgery residency and became a specialist, between 2006 and 2012.
Doctor of the year" title by the Ministry of Health, Turkey, in 201
She has done great contribution to the plastic surgery literature with 21 articles, published in both national and international scientific medical journals and wrote a chapter of a published international plastic surgery book
Breast Augmentation

Mouth and lip surgery (perioral and lip augmentation)

Cheek and deep line surgery

Ear surgery (Otoplasty)

Chin surgery

Facial rejuvenation

Eyelid surgery (Blepharoplasty)

Nose surgery (Rhinoplasty)

Face and neck surgery (Rhytidectomy)

Hair Transplantation

Skin treatments (non-surgical treatments, fillers)
Related News Articles:
No Related News Articles
Related Patient Stories:
No Related Patient Stories
Get response within 24hrs
Help Us With Your Details