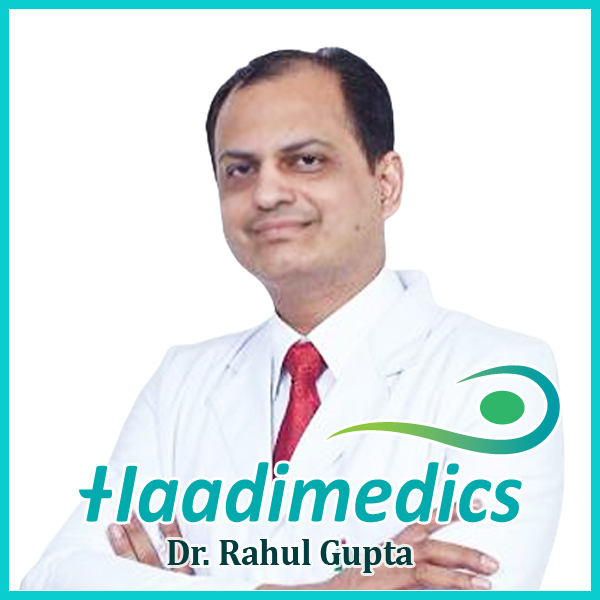 Get response within 24hrs
Director and Head of Neurosurgery | Noida | India
MBBS, MS (General Surgery), MCh (Neurosurgery) | 20 Years of Experiences
---
Dr. Rahul Gupta is one of the best neurosurgeons in India, having more than 18 years of experience in the field.

He is a Director and Head of the Neurosurgery Department at Fortis Noida, one of the leading hospitals in India.

Dr. Rahul completed his training at Govt Medical College, Rohtak and PGlMER, Chandigarh.

He worked as a teaching faculty member in the Department of Neurosurgery at PGIMER, Chandigarh, and GB Pant Hospital, New Delhi for 8 years before joining Fortis healthcare in July 2012.

He has presented many papers in national and international conferences and, he published about 55 articles in leading national and international scientific journals.

He was awarded the Prestigious Sugita Scholarship at the Nagoya University of Medical Science, Japan in 2011.

Dr. Rahul was trained for use of Fluorescence (5-ALA) in malignant Glioma surgery at Graz, Austria, and for Functional Neurosurgery at Amsterdam, Holland.

Dr. Rahul has achieved many professional memberships in various medical associations including, the American Association of Neurological Surgeons Memberships, Neurological Society of India, Neurological Surgeons Society of India, and A 0 Spine Society of India.

He is a member and an active participant in many neurosurgical societies. His area of interest is Minimally Invasive Brain and Spine Surgery, Endoscopic Skull Base Surgery, Endovascular Neurosurgery, (complex Brain Tumor and Neurovascular Surgery), and Paediatric Neurosurgery.

He is an expert in dealing with complex brain and spine trauma cases. He has performed more than 10,000 Neurosurgical procedures with a high success rate.

He is actively involved in many outreach community programs to spread knowledge about good health related to the brain and spine.

Dr. Rahul has also written a book on "Back pain" in both English and Hindi.
Work Experience:
Assistant Professor, Postgraduate Institute of Medical Education and Research, Chandigarh

Associate Professor, GB Pant Institute of Postgraduate Medical Education & Research, Delhi Sugita Scholar at Nagoya University of Medical Sciences, Nagoya, Japan.
MBBS, Govt. Medical College, Rohtak Fellowships   

MS (General Surgery), PGIM S, Robtak

MCh (Neurosurgery), PGIMER, Chandigarh
Prestigious Sugita Scholarship at Nagoya University of Medical Science, Japan in 2011.
Vascular Neurosurgery

Endovascular Neurosurgery

Tumor Base Neurosurgery

Minimally invasive Spine Neurosurgery

Endoscopic Neurosurgery

Epilepsy and Function Surgery
Related News Articles:
No Related News Articles
Related Patient Stories:
No Related Patient Stories
Get response within 24hrs
Help Us With Your Details