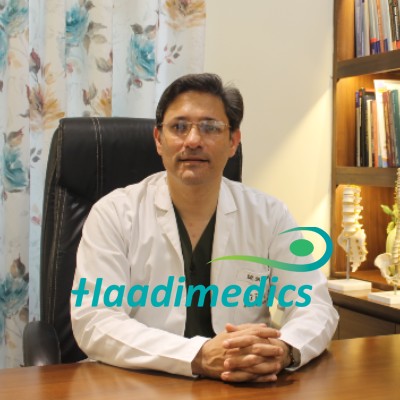 Get response within 24hrs
Associate Chief - Neurosurgery & Head - Neuro Spine - Neurosurgery | New Delhi | India
MBBS, MS, MCh | 17 Years of Experiences
---
Dr. SK Rajan is an 'AO International' Certified Spine Surgeon who brings with him over 15 years of experience in the surgical arena accumulated from a wide variety of Institutions from around the Globe.
He has accomplished his surgical training from premier institutions of the country like PGI Chandigarh and GB Pant Hospital, New Delhi; & realizing his passion for treating spinal disorders and that spine work demands expertise of a very high order, Dr. Rajan then moved to the UK and then to the US to work with some of the most prominent International leaders in the field of Spine Surgery (Prof. Edward Benzel at the Cleveland Clinic and Mr. Adrian Casey at London) so as to 'crack the code' and enable delivery of outstanding results.
He has also served as Assistant Professor of Neurosurgery, Chief Spine Surgeon & Head of Neurosurgery at a variety of busy Central Government and large Private Hospitals of Delhi before joining Artemis as the Head of Spine Surgery and Associate Director of Neurosurgery.
Dr. Rajan was one of a select few from around the world to be selected for the prestigious International World Federation of Neurosurgeons Fellowship to USA for the year 2009. He was also recently honored with 'AWARD OF EXCELLENCE IN SPINE SURGERY' AT THE Global Healthcare Excellence Awards at New Delhi for his contributions to the field of spine surgery.
He is also recognised in the National Neurosurgery circles for successfully applying and popularizing new and special techniques for the successful treatment of various complex spinal disorders especially of the Craniovertebral Junction (upper neck) and Lumbosacral Junction (lower back). He has, to his credit, an accomplishment of more than 3000 surgeries including some of the most complex spine cases and cases complicated by other surgeons. His repertoire includes both open and minimally invasive spine surgeries (Fusions as well as Motion Preservation Surgeries) on a variety of congenital, degenerative, scoliotic (deformity), traumatic and infective problems of the whole spine.
He has been recognized for utilising Minimally Invasive Key Hole Spine Surgery Techniques for a variety of spine cases like slipped disc, Lumbar Canal Stenosis, Spinal Tumors, etc. Dr Rajan is regularly invited to give talks at Regional & International level scientific meetings and also invited at Live Operative teaching Courses as National Guest Faculty. He has also authored and co-authored a number of publications – both articles in national-international journals as well as book chapters.
MCh (Neurosurgery) (GB Pant, New Delhi)
Fellow Spine Surgeon (Cleveland Clinic Spine Institute, USA)
Spine Surgery Fellowship (Royal National Orthopaedic Hospital, UK)
Spine Surgery Fellowship (Nat. Hosp. for Neurology & Neurosurgery, UK)
Fellowship in Spine Surgery (KEM Hospital & Lilavati Hospital, Mumbai, India

Clinical Focus
Dr Rajan's areas of interest include - 
• Minimally Invasive (Keyhole) Spine Surgery (for slipped discs, canal stenosis) 
• Craniovertebral Junction (CVJ) Anomalies like Atlantoaxial Dislocations/fractures
• Spinal Fractures – including cementing (Kyphoplasty and Vertebroplasty)
• Endoscopic Spine Surgery (for slipped discs and tumors)
• Spinal Deformity correction (Kyphosis and Scoliosis)
• Spinal Tumors – including keyhole tumor removal
• Disc replacement (Artifical Disc Placements)
• Spinal Tuberculosis & Discitis
• 2010 - Recipient of coveted World Federation of Neurosurgical Societies Travelling Fellowship to the USA
• 2014 - Recipient of Global Healthcare Excellence Award for Excellence in Spine Surgery
• 2015 - Recipient of 2015 Leaders Award for Leader in Treatment of Spinal Disorders
• 2016 - Recipient of National Healthcare Excellence Award for Best Neurosciences team of the year
Memberships
• North American Spine Society, USA
• Neurological Society of India
• Association of Spine Surgeons of India
• Neurological Surgeons Society of India
• Neuro Spinal Surgeons Association, India
• Minimally Invasive Spine Surgeons of India
• World Federation of Neurosurgical Societies, USA
• Minimally Invasive (Keyhole) Spine Surgery: The procedure involves using just 1-1.5 inch long skin incisions to relieve pressure from upon the spinal nerves & stabilise the spine using state of the art Minimal Access equipment (in patients with severe low back pain and sciatica/difficulty in walking long distances). This is a revolutionary procedure which decreases recovery time, post procedure pain and discomfort dramatically compared to older conventional spine procedures. Dr. Rajan is one of very few spine surgeons in the country performing these types of procedures.

• Deformity Correction (Kyphosis/Scoliosis): Many patients can develop abnormal curvature of the spine due to a number of reasons. These are corrected by newer techniques using intraoperative Neuro-Monitoring and Neuro-Navigation using O-arm in most cases which greatly increase the safety and the accuracy of the surgery.

• Cement Stabilisation for Spinal Fractures: Elderly population is vulnerable to spontaneous fractures of the spine due to the weakness of the bones. Dr. Rajan uses latest techniques which enable almost instantaneous fixation of the fracture and relief from pain via just 5mm access incision

• Micro-Endoscopic Disc Surgery: Fresh slipped discs that do not improve on medicines are treated using special patented access ports which allow many of such procedures to be carried out as day-care procedures under local anaesthesia.

• Spinal Fixation and Fusion: Dr Rajan uses Robotic O-Arm Neuro-Navigation in every single spine procedure he performs. This exclusive and unique tool automatically guides in accurate and safe execution of every critical step in spine surgery like screw or cage placement thus drastically bringing down any possible errors.
Get response within 24hrs
Help Us With Your Details