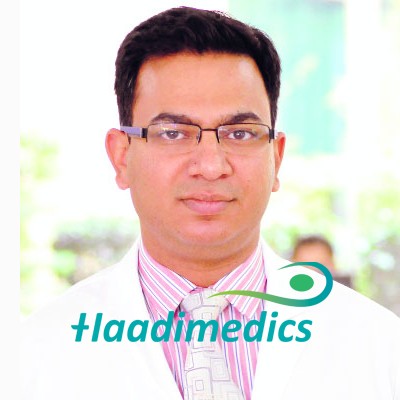 Get response within 24hrs
Consultant, Spine Surgeon | New Delhi | India
MBBS, MS | 14 Years of Experiences
---
Dr. Hitesh Garg has extensive experience in spine surgery having trained from the best spine centers of the world and India.
Dr. Garg specializes in the comprehensive treatment of numerous conditions affecting the cervical, thoracic, and lumbosacral spine including degenerative disc disease, scoliosis, trauma, infections, and tumors.
He has performed more than 2000 spine surgeries including more than 1500 spinal fusions, 250 deformity correction procedures (Scoliosis and kyphosis), 150 lumbar and cervical artificial disc replacements.
In spite of being offered a faculty position in USA, he chose to come back to India with the aim to establish an advanced spine center of international repute in India. With the same aim in mind, he started the spine surgery department at Artemis Health Institute in 2010 with the unique concept of neurosurgeons and orthopedic surgeons working together to give the best results.
He has strong academic interest, has published nationally and internationally and has written chapters in world renowned books on spine surgery.
Dr. Garg believes in meeting patients' individual needs through comprehensive evaluation and treatment designed to help them achieve active, pain-free lifestyles.
He combines leading edge techniques with proven traditional methods to provide patients with the best care possible.
MBBS (AIIMS), MS (Ortho)(KEM, Mumbai), Fellowship in spine surgery (Yale University, USA), Fellowship in Paediatric Spine (Shriners Hospitals for Children, USA), Joint Replacement Fellowship (AIIMS)

Medical School 
Post Graduate Programs : MS (Ortho)(KEM Hospital and Seth G S Medical College, Mumbai) Fellowship in spine surgery (Yale University, USA) Fellowship in Paediatric Spine (Shriners Hospitals for Children, USA) Joint Replacement Fellowship (AIIMS)

Graduate Programs  
All India Institute Of Medical Sciences, New Delhi
MEMBERSHIP
1. AO SPINE 2. DELHI SPINE SOCIETY 3. ASSOCIATION OF SPINE SURGEONS OF INDIA 4. INDIAN MEDICAL ASSOCIATION 5. GURGAON ORTHOPAEDIC SOCIETY
HONOURS AND REWARDS 1.Dr. Pandurangi Award for the "Best Orthopaedic Resident" for the year 2006-07 at KEM Hospital and Seth G S Medical College, Mumbai.

2. Selected among the top 12 nominees out of 298 submissions for All Asia Young Inventor Award organized by Hewlett Packard (Dec 2000), for work on Homemade spacer for asthmatic patients. The work was mentioned in "Far Eastern Economic Review" (Dec, 2000).

3 Dr Hira Lal Sharma Memorial Gold Medal (1996-97) for standing first in Punjab School Education Board ( Std XII ) in the state of Punjab

4.Priviliged to sign the college Roll of Honour ( 1996-97)
1. Osteoplasty: The Treament of Vertebral Body Compression Fractures using the Osseofix Device in "The Comprehensive Treatment of the Aging Spine" 2. Osteoarthritis of knee and High Tibial Osteotomy " Text book of Orthopedics and Trauma bu G S Kulkarni" 3.Injuries of the thoracolumbar spine in children in "Pediatric Orthopedic Surgical Emergencies 6. Publications : 1 Wenhai Wang, George Baran, Hitesh Garg, Randal R. Betz, Patrick J. Cahill: Cement augmentation of pedicle screw fixation: a finite element analysis :( Submitted to spine) 2 Samdani A, Cahill P, Garg H, Bonet H, Betz R: Acute intraoperative shunt failure in a case with myelomeningocoele A case report : ( JBJS(Am) , Feb 2012 ) 3 Miller CP, Jegede K, Essig D, Garg H, Bible JE, Biswas D, Whang PG, Grauer JN The Efficacies of Two Ceramic Bone Graft Extenders for Promoting Spinal Fusion in a Rabbit Bone Paucity Model. Spine (Phila Pa 1976). 2011 Aug 18. 4 Garg, Hitesh , Ramachandran, Ravi, Yue, James "Prodisc-C".Techniques in Orthopaedics: June 2010 - Volume 25 - Issue 2 - pp 118-126 5. Mohanty SS, Bhasme VK, Garg H, Wargantiwar A. The haemophilic pseudotumour - surgical treatment by excision and filling the defect with calcium-phosphate cement granules.( Haemophilia. 2007 Mar;13(2):217-20 ) 6 Bapat M, Choudhary K, Garg H, Laheri V : Reconstruction of Iliac Crest using autogenous rib graft (Spine 2008 Nov 1;33(23) 2570-75 ) 7. Garg H Mohanty SS: Study of the self centering mechanism of bipolar endoprosthesis (Thesis. Mumbai university) 8. Singhal T, Garg H, Arora HS, Lodha R, Pandey RM, Kabra SK : Efficacy of a homemade spacer with acute exacerbation of bronchial asthma : A randomized controlled trial.( Indian J Pediatr 2001; 68(1) : 37-40 )

Degenerative spine disorders, Spinal deformity, Spinal trauma, Spinal Infections, Osteoporosis
Procedures
• Spinal Fusions (TLIF, ALIF, DLIF, Axial-LIF, PLIF, PLF)
• Spinal deformity (Scoliosis and Kyphosis) correction
• Artificial Disc Replacements (Cervical and Lumbar)
• Minimally Invasive Spine Surgeries
• Cervical Spine Surgery
• Occipito-cervical and C1-C2 surgeries
• Spinal tumours
• Kyphoplasty and Vertebroplasty
• Motion preserving surgeries for degenerative spine and scoliosis
• Growing rod for scoliosis
• Spinal Trauma surgeries
• Pain Procedures: Epidural Blocks, radiofrequency Ablation, Spinal cord stimulator, Baclofen and Morphine Pumps, Percuataneous discectomy
Related News Articles:
No Related News Articles
Related Patient Stories:
No Related Patient Stories
Get response within 24hrs
Help Us With Your Details